New iOS 5.1 Code Shows Apple is Working on 4G LTE iPhone
With the new iPad Apple started bringing its mobile devices to 4G LTE networks, and some code in iOS 5.1 indicates that the next iPhone will soon follow. There some code strings in iOS 5.1 that point to 4G LTE in relation to phone and FaceTime calls.
The new code, found by iDownloadBlog, shows what would be a toggle in Settings for enabling or disabling 4G on an iOS device. That alone would be expected because of the new iPad. However, there's other code for warning users when enabling or disabling the 4G radio in the device.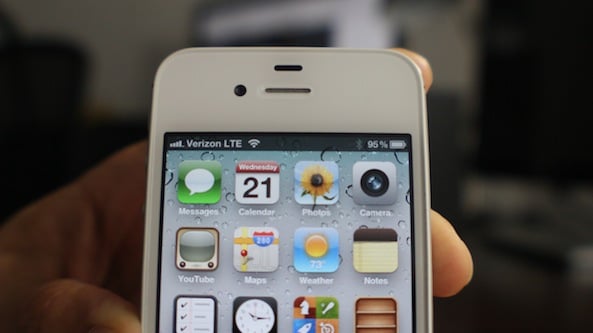 The strings of code reads:
"4G_ON_CALL_CANCEL" = "Cancel";
"4G_ON_CALL_OK_DISABLE" = "Disable";
"4G_ON_CALL_OK_ENABLE" = "Enable";
"4G_ON_CALL_WARNING_DISABLE" = "Disabling 4G will end your phone call. Are you sure you want to disable 4G?";
"4G_ON_CALL_WARNING_ENABLE" = "Enabling 4G will end your phone call. Are you sure you want to enable 4G?";
"4G_ON_FACETIME_4G_WARNING_DISABLE" = "Disabling 4G will end FaceTime. Are you sure you want to disable 4G?";
"4G_ON_FACETIME_WIFI_WARNING_DISABLE" = "Disabling 4G may end FaceTime. Are you sure you want to disable 4G?";
"4G_TEXT" = "Using 4G loads data faster, but may decrease battery life.";
This code shows that Apple is at least testing an iPhone with 4G. There's no other reason the warnings would show that enabling or disabling 4G would end a phone call.
The phone call warnings also give more evidence to the rumors of a Qualcomm World LTE radio inside iPhone 5. With that chip the next iPhone will use 4G for both voice and data.
Switching on/off the 4G radio would certainly cut off a phone call if the phone put voice over 4G.
The FaceTime strings are also quite interesting, and seem to indicate FaceTime over 4G. The codes show warnings that turning off 4G will end a FaceTime call, or that it is a possibility. The first string for FaceTime is for a call taking place entirely on 4G, while the second is for a FaceTime call switching between 4G and Wi-Fi.
When Steve Jobs first introduced FaceTime on the iPhone 4, he mentioned that it would remain Wi-Fi only for 2010. Now, in 2012 with 4G LTE networks we may finally be able to use FaceTime outside of Wi-Fi networks.
Though given how fast new iPad users are going through 4G data limits, FaceTime over 4G might cause more problems than it's worth. Unless Apple finds a way to make it use less mobile data.