New iOS 7 Cydia Tweak Kills Need for Facebook Messenger
A new iOS 7 Cydia tweak was recently released for jailbreakers that allows the Facebook iPhone app to continue using the built-in chat functions instead of being forced to download and install Facebook Messenger.
Facebook has been the center of a lot of controversy these last couple of weeks, mostly thanks to the new policy that requires Facebook app users to download and install the Facebook Messenger app instead of being able to use the built-in chat functions as before.
This has raised a lot of noise in the mobile community and users are no doubt upset by the move from Facebook. While it could just be a way to get more people using its Facebook Messenger app, the social network has created some understandable chaos by making such a move.
However, if you have a jailbroken iPhone and refuse to download and install Facebook Messenger, there's a new iOS 7 Cydia tweak that brings back the original chat functionality in the default Facebook app.
The tweak is called FBNoNeedMessenger and you can find it in the BigBoss repo. You should already have that repo installed anyway, so you simply just need to search for "FBNoNeedMessenger" and it should pop up in the list.
UPDATE: Another tweak called BluePill also does the same thing as FBNoNeedMessenger, so if it doesn't work for you, give BluePill a try.
Once it's installed, you should be able to continue using the Facebook app as you have been in the past, allowing to chat with friends through the Facebook app itself, rather than having to use Facebook Messenger.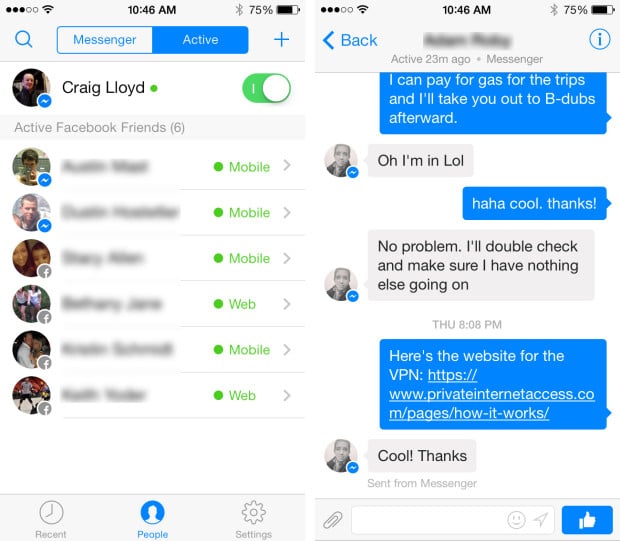 While many users are understandably upset about the recent changes from Facebook, we have to admit that the Facebook Messenger app is a welcomed upgrade from the built-in chat functions that once resided in the default Facebook app, mostly because we find it useful and easy to use, since it's a dedicated full-screen app for chatting with Facebook friends, rather than it being a mediocre add-on to the Facebook app.
Facebook Messenger has been around for a couple of years now, but it wasn't until recently that it became even more useful with Windows Phone support and the addition of a dedicated Groups tab for group messaging, as well as free audio calls to Facebook friends directly from the app. Plus, it's absolutely free and available on iTunes and Google Play.
One thing that there is to love about Facebook Messenger is the user interface; it's simple, clean and easy to use. The same really can't be said for the web interface or the UI in the default Facebook app. It seems like Facebook changes constantly every few months, and consistency is hard to come by when using the Facebook website. Plus, the separation between Facebook Chat and the Messages platform can be confusing for a lot of users. Facebook Messenger simply combines both platforms to make it easier to use.
Read: How to Download Facebook Messenger
Facebook Messenger is a lot like other IM apps out on the market, like Google Hangouts, Yahoo Messenger, etc. The best part about these apps is that you can use them to replace traditional text messaging. If you have Facebook friends that you chat with constantly, it saves you from paying for extra text messaging from your carrier.
Of course, most cellular plans nowadays come with unlimited text messaging, so most users won't be nailed with overages if they text too much, but since Facebook Messenger sends chats and messages over WiFi or 3G/LTE, it's much faster at sending and receiving messages than traditional text messaging.
In any case, this new iOS 7 Cydia tweak is one of the most useful jailbreak tweaks that we've heard of recently, especially since many Facebook mobile users hate the forced changes to the app.