35 New iOS 9 Features You'll Love
Apple announced a sweeping collection of new iOS 9 features that are coming to iPhone and iPad during the Apple WWDC 2015 keynote. The iOS 9 release date is set for fall, when we will likely see some more features.
At the event Apple also announced the iOS 9 beta for developers that starts today and a public iOS 9 beta coming in July. Apple Music is new, but it is coming in an iOS 8.4 update so you don't need to wait until the fall to get this update.
On the surface the iOS 9 features may not seem as big as the previous iOS upgrades like iOS 7 and iOS 8, but when you start to look at exactly what Apple is bringing and which devices support iOS 9 there is a surprising number of exciting features coming this fall.
The iOS 9 features may not come to every device, and some of them like the new split screen multitasking are only available on the newest iPad Air 2. The iOS 9 update is available on any device that supports iOS 8, even the oldest ones like the iPad 2 and iPhone 4s.
Here is a look at the most exciting iOS 9 features coming to your iPhone and iPad this fall.
35 New iOS 9 Features You'll Love
Here is an easy to follow list of the new iOS 9 features that you'll love this fall. Apple shared the details about many of these features, but only teased some of them. For a few of the features you will need an Apple Watch or a Mac to make full use of the new options.
Siri is Faster – Apple claims Siri is 40% faster than on iOS 8.
Siri is More Accurate – Apple also claims that Siri is 40% more accurate than on iOS 8.
Reminders on Steroids – If you tell Siri to remind you about this, it will remind you about what you are looking at on the iPhone screen.
Proactive iPhone – If you plug headphones in every morning to listen to workout music, Apple will react and do this for you when you plug headphones in each morning. Similar activities will build up for other locations.
Time to Leave Reminders – The iPhone will let you know what time you need to leave to get to an appointment and it can include traffic information as well.
Search Your Email for Callers – When you get a phone call from someone who isn't a contact the iPhone can find the number from email so you know who is likely calling you.
Supercharged Siri – Siri can now search for photos and videos, even photos in a place or of a person.
iPhone Search is Vastly Better – With the new iPhone Search you can now get sports scores, schedules, Netflix information, movies and search inside apps that you can then dive into with one tap.
Don't Forget an Important Contact – When emailing the iPhone will remind you of people you often email with that person as well.
Spotlight Improvements – In Spotlight you'll see apps, contacts, news and places you may want to visit nearby.
Privacy – Searches for information on your device and in Apple Maps are not associated with your Apple ID or shared with other parties.
Apple Pay Discover Support – This fall Apple Pay will add support for Discover cards so that users can get the full use out of their credit cards with Apple Pay.
Apple Pay Store Credit Cards – With iOS 9 you can add store credit cards like Kohls to your iPhone wallet.
Apple Pay Loyalty Cards – The new Wallet app replaces Passbook and it can now hold your loyalty cards and automatically present them when you use Apple Pay.
New Apple Notes App – The new Apple Nots app supports check lists for to-do items, the ability to add photos, sketch out drawings and it all syncs to iCloud.
Transit Directions in Apple Maps – Apple Maps now supports public transit in major cities with iOS 9 and includes walking directions to get to the transit locations in time for the next train or bus.
Apple News – There is a new News app like Flipboard and Zite that delivers personalized news on the iPhone in beautiful layouts. The information is based on your favorite sources and topics.
Find Where You Can use Apple Pay – In Apple Maps on iOS 9 you can use the app to find places to visit and you can also see what stores accept Apple Pay.
Better iPad Keyboard – the new Shortcut bar on the iPad allows users to use six shortcuts to the left and right of the predicted words. Apps can tap into this to show shortcuts that are useful.
Better Support for Bluetooth Keyboards – The iPad will also show keyboard shortcuts when you use a Bluetooth keyboard so that you can still switch between apps fast and use other shortcuts.
Use Keyboard as a Touchpad on iPad – Place two fingers on the iPad keyboard and you can slide your fingers around like a touchpad to move the cursor, select text and more.
Slide Over for Fast Access to an App – Slide in form the right side to see another app without leaving the one you are currently in, like messages or Twitter.
iPad Multitasking – On the iPad Air 2, you can use Split View to run two apps side by side on the iPad and use them both almost like you can on a computer.
Pop Up Video – There is also the ability to play a pop up video from a TV show so you can keep watching while you work on something else.
Better iPhone Battery Life – Apple promises improvements that will add at least an additional hour of iPhone 6 battery life with iOS 9.
Low Power Mode for iOS 9 – There is also a new low power mode in iOS 9 that allows users to turn on a low energy mode that can add up to three hours of added use.
Easier to Upgrade to iOS 9 – The iOS 9 update is smaller so you can download it and install it on devices with limited storage easily.
Record Gameplay in iOS Apps – Developers can build in support to record your iPhone and iPad gaming sessions to share them online.
Smaller App Downloads – When you download a new app the iOS 9 App Store can deliver an optimized version just for your iPhone that uses less data to download and less iPhone storage.
Improved Health App – The new iOS 9 health app will track reproductive health, hydration levels and UV exposure.
Control Connected Home – Home Kit in iOS 9 and will allow users to better control a connected home with automation that even includes Siri control.
Wireless CarPlay – With new cars coming this fall iPhone users will gain wireless CarPlay support so there is no need to plug-in to enjoy the CarPlay features.
Better Security – iOS 9 adds in better support for two-factor authentication and will support a six digit pass code.
Better Performance – Apple promises faster scrolling, animation and better overall performance on iOS 9 thanks to Metal.
Switch to iOS Easier – A new Move to iOS app for Android will allow users to wirelessly switch from Android to iPhone easier. This app will bring accounts, messages, DRM free songs, free apps and more.
We'll see some new iOS 9 features announced this fall when Apple is likely to host another Apple Event for the iPhone 6s and iPhone 6s Plus. Apple always saves some features for the new iPhone, and this time around there are enough missing items that there is certainly room for Apple to save some special features for the 2015 iPhone release. Below you'll find the most important iPhone 6s rumors.
15 Important iPhone 6s Rumors
iPhone 6s Release Date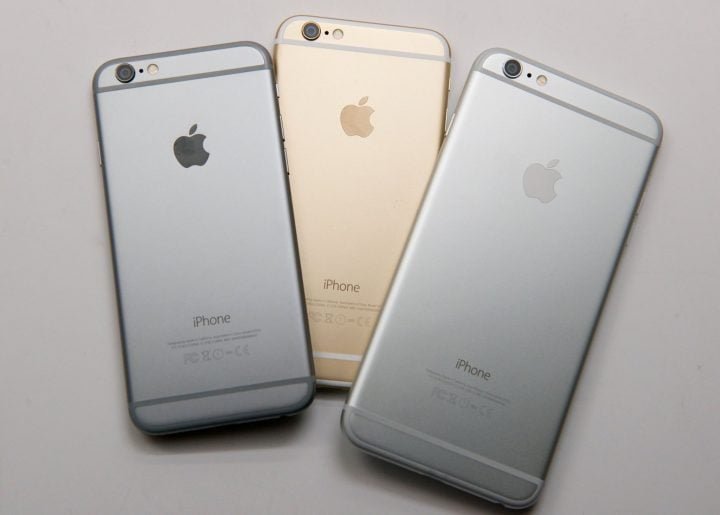 We know Apple plans an event for June 2015, but this is not where you should expect to hear about the iPhone 6s at this event. WWDC 2015 will more than likely focus on iOS 9 and a new version of OS X for Mac.
Expect an iPhone 6s announcement in fall 2015 at a special event dedicated to the iPhone, and possibly the iPod touch.
The last four iPhone release dates took place in a span of 30 days from late September to mid-October and we expect the iPhone 6s release date will arrive in a similar time. A best guess would be that the iPhone 6s release date will come on September 18th or September 25th, based on historical data only.

As an Amazon Associate I earn from qualifying purchases.