New iOS Yahoo App Brings New Design, Summly Integration
Today Yahoo relaunched its iOS Yahoo app with a new interface and Summ.ly integration to summarize news stories.
The new Yahoo app looks relatively similar to the new Yahoo weather app from last week with an emphasis on large photos. By default the app displays news stories in a simple list like many other apps. Users can view the new feed with large photos by switching to visual mode in the menu tray on the left side of the app.
The visual feed shows photos for each news story with quick summaries of the story put over the photo. The summaries use "Summly's natural-language algorithms and machine learning to deliver quick story summaries." Sometime the summaries are a bit strange, but they always seem to convey the general idea of the story.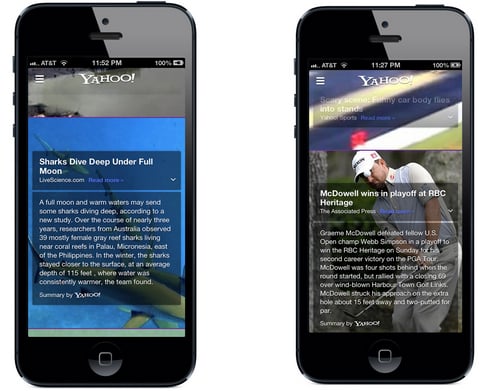 Yahoo also added a new article view which shows only the text of the article with photos if necessary. The view is similar to Pocket, Instapaper or other read later services. The app gives users the option to share stories via Facebook, Twitter or email if they so choose. There's also an option to open stories in Safari.
Yahoo's new app also include an enhanced "search experience" that includes "better video and image search" for those who actually use Yahoo search.
According to The Next Web, this new Yahoo app comes less than a month after the company paid $30 million for Summly, which shows the company is capable of turning around new apps relatively quickly. Or, if the app was in the works before the acquisition, it shows Yahoo is capable of integrating new services into apps relatively quickly.
With two new apps last week and this new app Yahoo has three new, beautiful apps for the iPhone. Paired with recent rumors of a new partnership with Apple iPhone users may start to see a lot more purple on their iPhone than they're currently used to.

As an Amazon Associate I earn from qualifying purchases.