New iPad 2 Diagram Shows Changes in iPad Design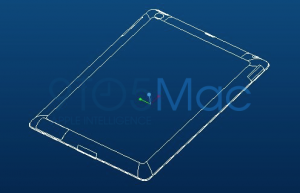 Images of what appears to be Apple's second-generation iPad designs have surfaced, suggesting that the iPad 2 will add more ports and sport an altered design than its predecessor.
The images obtained by Apple-centric 9 to 5 Mac blog shows a diagram of the iPad 2 mold. Though the molding doesn't indicate whether the iPad will have any front-facing camera–as that would be on the glass rather than the body of the iPad, it does show a different back-side styling than the current-generation iPad. Rather than a curved back like on the rear side of the iMac displays, Apple may go with a flat back and tapered sides. The design change may aid in trying to lay the iPad flat on a table or surface and not have it rock back and forth when the user is trying to interact with the screen. Also, on the back, is a hole for a rear camera.
Also, there is another opening on the left side of the device. The iPad 2 could potentially sport an SD card slot, a mini or micro USB port, or even a full USB port, which may aid in productivity if Apple allows USB memory drives to be accessible on the device, though that may be wishful thinking as the iPad does not have a true file system accessible to the end-user. Previous rumors indicate that Apple may add a secondary dock connector port on the side of the device for use and charge while in landscape orientation, though that may not be the case from the latest mold renderings of the consumer tablet.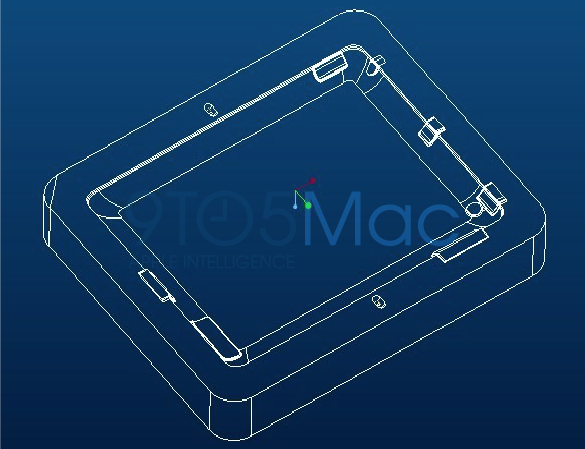 Regarding the design of the iPad, Apple may be shaving off weight and thickness. Rumors from Apple manufacturing partner Foxconn suggests that Apple may trim the 13.4 mm thickness of the tablet down to 8.5 mm.

As an Amazon Associate I earn from qualifying purchases.