New iPad 2 Offers 15-30% Greater Battery Life
Believe it or not, there is a new Apple iPad 2 floating around that has a smaller 32-nm die shrink of the device's A5 processor. And after some testing, it appears that these newer iPad 2 models actually boast 15-30% greater battery life over the older models that are in circulation.
These new iPad 2's, sporting the smaller die-shrink, were outed last month and somehow, AnandTech has managed to identify one and put it through some serious testing.
In the subsequent battery life and overall performance tests, the website found that the performance of the new iPad 2 models was the same but that the battery life was vastly improved over the older models.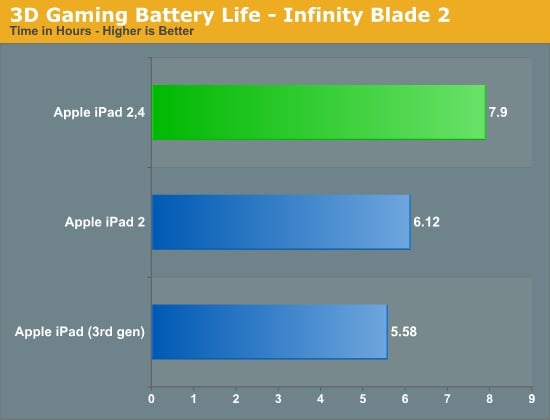 Read: New iPad Review.
In several benchmarking tests, the new iPad 2 with the 32-nm die shrink posted battery life results that were again, between 15-30% better than those found on Apple's original iPad 2.
Broken down, the tests reveal a 15% increase in web browsing battery life, an 18% gain in video playback battery life and finally, almost a 30% improvement in battery life when playing games.
https://www.youtube.com/watch?feature=player_embedded&v=4Rp-TTtpU0I
Infinity Blade 2, a graphics intensive game, was able to run for nearly eight hours on the new iPad 2. The older iPad was only able to run it for 6.12 hours. So, a pretty substantial improvement.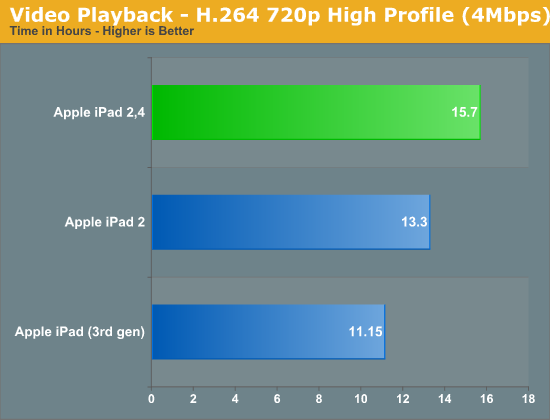 Read: iPad 2 Review.
While the improvements are nice, there is a slight problem. There is no demarcation on the new iPad 2's that give them away from the other iPad 2's in circulation. So unless you are adept at performing battery tests with the iPad and have no problem shelling out the $399 it takes to get one, time and time again, it may not be worth trying to find one.
That being said, it appears that there are indeed new and improved iPad 2's out there to be bought.
With the introduction of the third-generation iPad, which arrived back on March 16th, Apple dropped the price of the iPad 2 to $399. That is for the 16GB Wi-Fi only model. Apple also sells a 3G 16GB model for $529.
The iPad 3 though features some improvements over the last model including a high-definition Retina Display, a better dual-core processor, an improved rear camera, and optional 4G LTE connectivity.

As an Amazon Associate I earn from qualifying purchases.