New iPad 3rd Gen Goes on Sale Friday At 8 AM
The new iPad will be available on Friday, March 16 at 8:00 AM according to store sign images posted online today.
Apple does not time the release to happen at the same moment across the globe, so the iPad 3rd Generation launch time will happen at 8 AM your local time.
(Read: iPad Buyer's Guide)
The same report from 9to5Mac says that, Apple store staff will work overnight Thursday night in preparation for the launch of the new iPad, with a nice 10% added to their wage.
This marks a change from last year when iPad 2 buyers could not pick up their new tablet until 5 PM. Doing so earlier means people who want to get in line early may have to camp out overnight to find their place in the front of the line.
(Read: Ultimate Guide to Lining Up For the New iPad)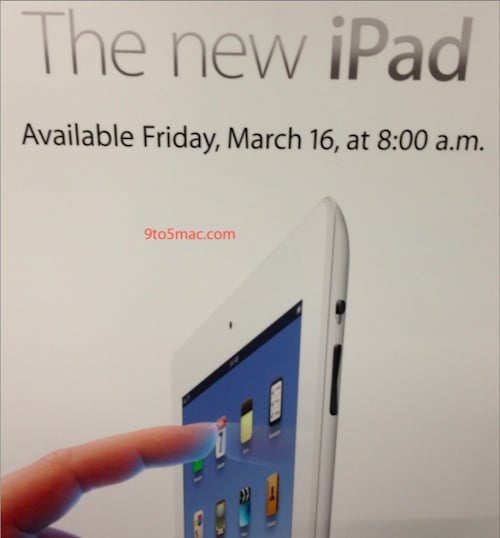 This only helps if you live close enough to an Apple Store. For others you may have to find one at one of the other retailers selling the new iPad. The Apple Stores will have the largest stock with the biggest selection of the various models, so we suggest you get in line at one as soon as you can.
(Read: First iPad 3rd Generation Unboxing Video Reveals 4G LTE Toggle)
Ordering online will result in a delay since shipping dates already slipped to more than a few weeks past the March 16th launch date. Some buyers already received shipping notices from Apple for their preorders.
You can see our interview with people in the iPad 2 line below, which started much later in the day. If you want an iPad, you better set your alarm early to beat out the folks who are already eyeing for the front of the line.
We'll be providing information about where to find the iPad 3rd Generation in stock on release day as it is available.
We already know that Best Buy will hand out tickets before the store opens up for iPad sales. If the ipad is going on sale at 8 AM everywhere, expect lines to form early at Best Buy. Verizon Wireless has announced that they will sell the iPad on Friday, as will Radio Shack and other locations, but we are still waiting to hear about the official timing at third party retailers.
Via: MacRumors

This article may contain affiliate links. Click here for more details.