New iPad (3rd Gen) Unboxing Video
The new iPad, really the iPad 3, is arriving in stores and homes across the country.
While you eagerly await your FedEx or UPS driver's arrival, Kevin Purcell went straight to FedEx to pick up the new iPad (2012) so that we can share our new iPad unboxing with you.
(Read: 35 new iPad Cases Roundup)
In the video below, Kevin shows us the new iPad, and the iPad packaging that any iPad owner is already familiar with.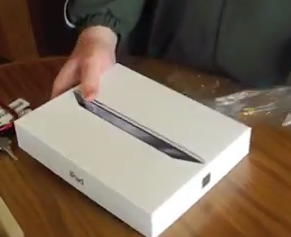 After unboxing the iPad, Kevin gives us a quick tour around the newest iPad. It can be hard to tell the difference between the iPad 2 and the new iPad, but the larger camera lens and the silver dock connector can help.
The new iPad has a high resolution Retina Display, and for the first time it is available with 4G LTE connectivity on Verizon or AT&T. The new iPad also has better graphical power, which we should see developers take advantage of in games like Infinity Blade Dungeons.
(Read: New iPad Buyer's Guide)
The new iPad is available in stores today. Apple Stores will have the most stock, but readers are reporting success at third-party retailers like Best Buy and Radio Shack. If you want a 4G LTE model, Verizon and AT&T are your best bet.
Stay tuned for our full iPad 3rd generation review.