New iPad Camera: Photo Samples
Apple's latest iPad has a new camera that's almost as good as the one found on the iPhone 4S. The new iPad's camera has a five-element lens, but its sensor only captures 5 MP images, which is less than the 8 MP captured by the iPhone 4S. While this may concern some iPad buyers, Apple released a few sample iPad camera photos that look fantastic.
While the new iPad sample pictures look great by most measures, they were likely taken be skilled photographers, not your average Joe iPad owner. The iPad will not replace your iPhone 4S camera, a point-and-shoot camera or DSLR while out and about, but it will deliver respectable photos and video when you don't have another camera within reach.
A lot of potential iPad buyers are complaining that 5 MP simply isn't enough. Five megapixels is more than enough for most use cases, such as sharing photos on Facebook, printing photos at home and making keepsakes, such as cards and calendars. The only reason you need anything larger is if you plan to significantly crop images or print huge enlargements. Printing a photo at 4″ x 6″, 5″ x7″ or 8″ x 10″, the most common print sizes, is not  a problem with a good 5 MP image, especially if you tweak it to your liking with an app like iPhoto on your iPad. Since the iPad doesn't have a flash or zoom you will need to get up close to your subjects and make sure there's plenty of light if you want the best results.  '

Lens quality has more of an impact on image quality than megapixel count. Unlike most phone and tablet cameras, the new iPad has a five-element lens. The iPad camera also has a wide aperture of f2.4, which means more light will make it to the sensor in low light shooting situations. Another benefit of the f2.4 rating is that subjects will be separated from the background, which is ideal when shooting portraits.
New iPad Camera: Photo Samples
The new iPad camera takes images at a resolution of 2592 x 1936 pixels, which is larger than most displays.  That's slightly higher than the new iPad Retina Display's resolution of  2048 x 1536 pixels. You can download each of these images at full resolution from Apple.com/ipad.
In this sample iPad photo you can see that the camera does a nice job of capturing the range of colors in the scene. You can also see the effects of a shallow depth of field.The flower petals towards the center-left of the frame are sharp as a tack while the leaves and beach are blurred, leading the viewers' eyes to the flower.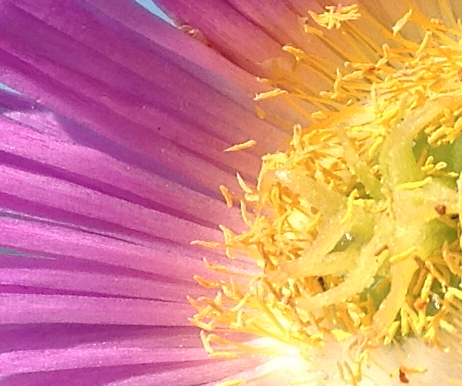 Here's a 100% crop of the flower sample photo. The iPad's camera captured more than enough detail.
In this sample photo you can see how the iPad's camera handles flesh tones in bright sunlight. It's also a good example of how the iPad will capture small images and fine details. We're not sure what the minimum focusing distance is, but this is close enough so that you can zoom in on the lady bug to see its spots.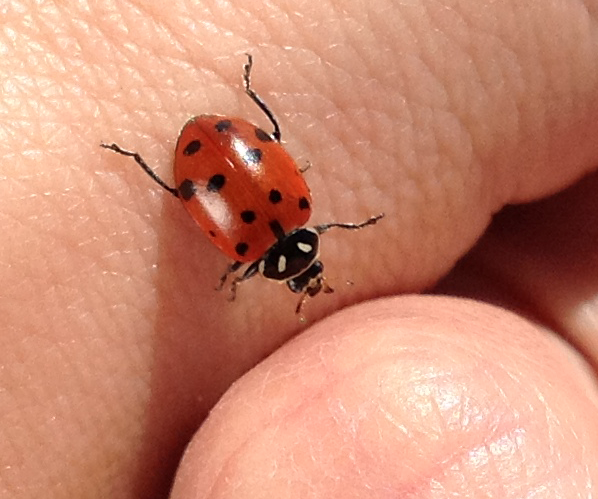 This is a 100% crop of the iPad photo sample. Viewers can make out the texture of the lady bug's wings. The iPad camera captures a ton of detail in the model's hands as well.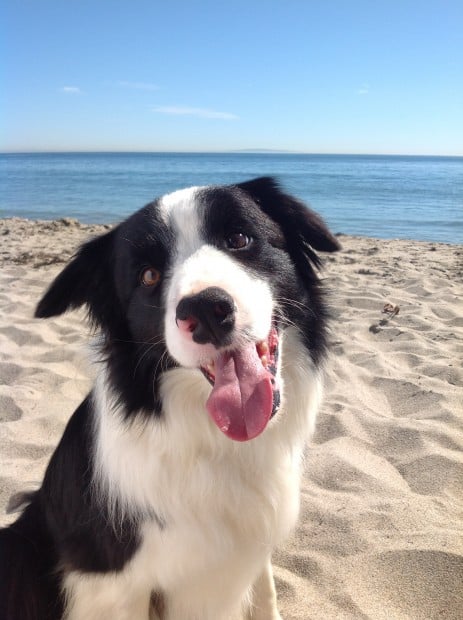 Here's a beach shot taken with a new iPad. This furry model doesn't look half bad, though the white part of his nose is blown out, which means we don't see any detail due to overexposure. Properly exposing for white and black detail can be difficult, even on professional cameras. It looks like the photographer used at least one reflector to assist in lighting the left side of the dog. That's something everyday iPad owners would never do, but you can't blame Apple for trying to put its best foot forward.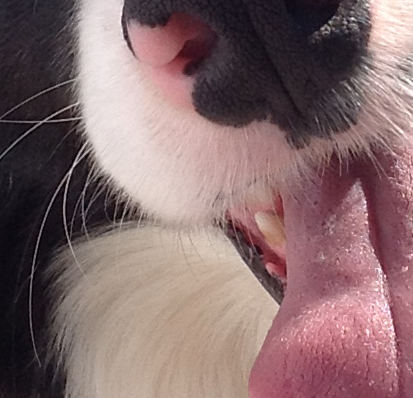 Again, there's plenty of detail, but you can see that there's some grain in the white fur on the dog's neck.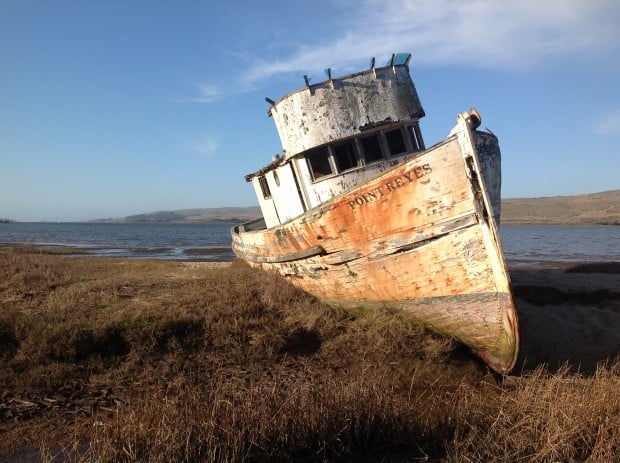 This looks like the best photo out of the bunch, largely because of the composition and late afternoon light. It looks more than good enough to share on Facebook, but this image would be dramatically better on a high-quality point and shoot, DSLR or bridge camera. You'd get more detail out of the camera on an iPhone 4S, without having to lug around an iPad.
Conclusion
The iPad camera is good enough to take quality snapshots, but the quality of the camera shouldn't be your primary concern when selecting a tablet. The iPad is an awkward shooting platform and you're sure to raise snickers if you shoot with it while on vacation or at your kid's ballgame. Apple didn't bother to provide sample images of faces or in low light, which is a shame since most people will probably use the iPad's camera indoors to take pictures of people.

As an Amazon Associate I earn from qualifying purchases.