New iPad Forces 3G App Download Limits Up To 50MB
Even if you don't want the new iPad you should be thanking Apple for it if you have an iPhone or iPad WiFi + 3G. Because of the new iPad the limit Apple raised the 3G download limit by 30MB. Now iPhone and iPad users can download files up to 50MB over 3G. New iPad users will be able to do the same over both 3G and 4G once the new device starts shipping.
The new limit applies to apps, movies, TV shows, and music in iTunes and the App Store. This means users shouldn't have any issues downloading most apps. Universal apps, which can run on the iPad and iPhone, are often larger than 30MB.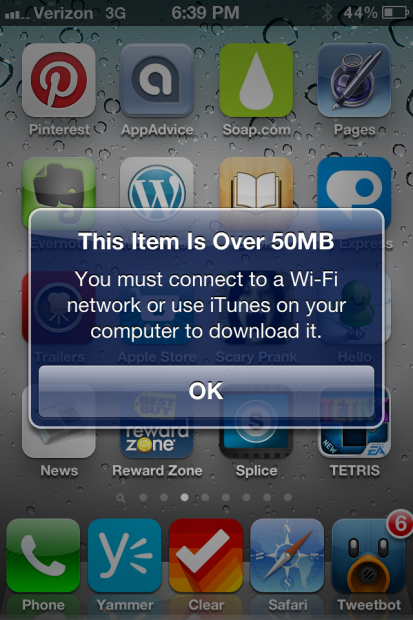 The reason for the bump up is the new iPad's Retina Display. Apps that have graphics optimized for the Retina Display iPad would be much larger. That's especially true for universal apps that include Retina Display and non-Retina Display graphics for all iOS devices.
For example, the universal app Consume was just 18.3MB when the developer didn't need to include Retina Display iPad graphics. That's right up against the 20MB limit that used to be in place. With Retina Display graphics the app would be around 35MB, well over the 20MB limit.
We were able to test the limit on AT&T and Verizon, though the limit should be higher on every iPhone carrier.
Keep in mind with this new update that it could mean you'll come close to your data limit faster than before if you download apps over 3G. That's especially true if you have a small data plan. If that's the case just don't update your apps over 3G to make sure you don't have any issues.

This article may contain affiliate links. Click here for more details.