New iPad Keyboard Could Arrive at iPhone 6s Event
Next week's iPhone 6s event looks to be jam-packed with all sorts of new products from Apple, but a new rumor suggests that Apple will be announcing a new "iPad keyboard" at the event.
We heard rumors earlier in the year that suggested that Apple might have been working on a revamped Bluetooth keyboard when an image was leaked that showed the Arabic version of the keyboard having a new layout then the other versions, including the US version of the keyboard.
The new keyboard that was posted comes with a redesigned Enter key, controls for adjusting the brightness of the backlit keys, and even a power button that replaces the eject key up in the corner, which means that you may be able to power on and turn off your Mac right from the Bluetooth keyboard. However, considering that Macs don't detect Bluetooth accessories until after they're booted up, we're not sure what that power button would do.
Of course, it's certainly time for a new Bluetooth keyboard from Apple, as the company hasn't refreshed it since 2011, and that was only when they changed around some labels on the keys. The keyboard hasn't received any significant update since 2009.
However, this new report suggests something different. According to The New York Times, Apple is currently working on "a revamped iPad keyboard," which suggests that Apple is rumored to release a keyboard accessory specifically for the iPad, but it could also just reference Apple's own Bluetooth keyboard that works on Macs, as well as on iPads and even the Apple TV.
Other details aren't known, and the report wasn't very specific. Plus, the fact that the New York Times is calling it an "iPad keyboard" has us wondering if Apple is working on a new iPad keyboard accessory specifically for the iPad. Perhaps a smaller keyboard that would fit better with the iPad than the company's regular Bluetooth keyboard.
However, it's likely that the publication is referring to Apple's regular Bluetooth keyboard that also works well with iPads. If that's case, then it goes along with past rumors that we've mentioned before.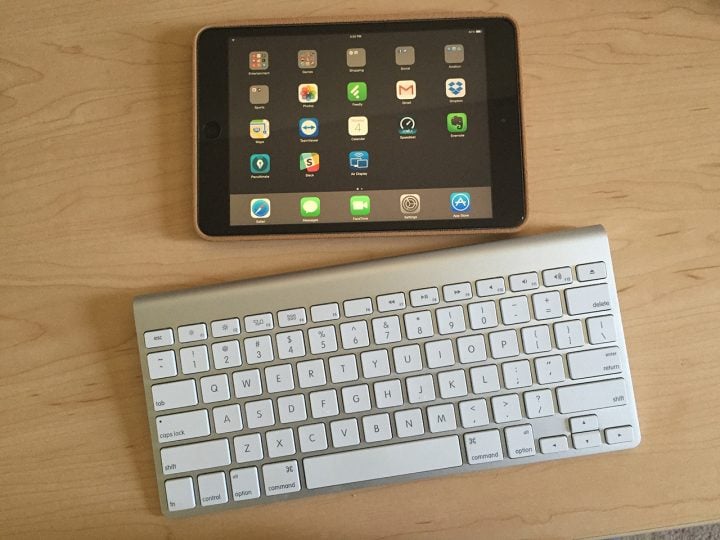 Plus, a new keyboard wouldn't be surprising since Apple completely redesigned the keyboard when it introduced the new 12-inch MacBook earlier this year. The keyboard on the new MacBook is 40% thinner than the old style, but the key caps themselves are 17% larger, making it a bit easier to type on for those will larger hands and fingers.
Furthermore, it's a more rugged keyboard overall, with stainless steel dome switches on the underside instead of silicone, making the keys tougher and less susceptible to break. Even the backlights received an upgrade and now each key has it's own backlight instead of a general set of LEDs that try to light up the entire keyboard, making it way easier to see the keys in the dark.
A new Apple Bluetooth keyboard would be cool, but if the company was indeed working on an iPad keyboard, that would be pretty cool as well. There are already a handful of iPad keyboard cases that users can buy, made by third-party manufacturers. Many of them are really good, but if Apple made its own, it could be even better.
Other items that we'll most likely see next week include the iPhone 6s, iPhone 6s Plus, the new Apple TV 4, and some rumors are even pointing to the possibility of Apple revealing the iPad Pro and the iPad mini 4 next week, even though Apple usually has a separate iPad event in October. It looks like it'll be a busy day for Apple on September 9, and an exciting day for Apple fans who are looking to upgrade their devices.