New iPad Mini Leaks Show Detailed Measurements
A few days after our engineering samples of the iPad Mini there are leaks that claim to show exact measurements of the device.
The schematics come from Think iOS, and they line up well with our recent images. The plans show a thin iPad Mini with the rumored 19-pin dock connector surrounded by two speaker grilles. According to the plans, the iPad Mini is just 0.1mm thicker than the current iPod touch. In the schematics, the iPad Mini is just 7.3mm thick, and the iPod touch is 7.2mm thick.
The schematics also say the iPad Mini is 200.13mm tall, and 134.73mm wide. Those measurements are only slightly different from our estimated sizes. The differences come down to about 10mm, so it's plausible that these schematics are the basis for the sample we saw.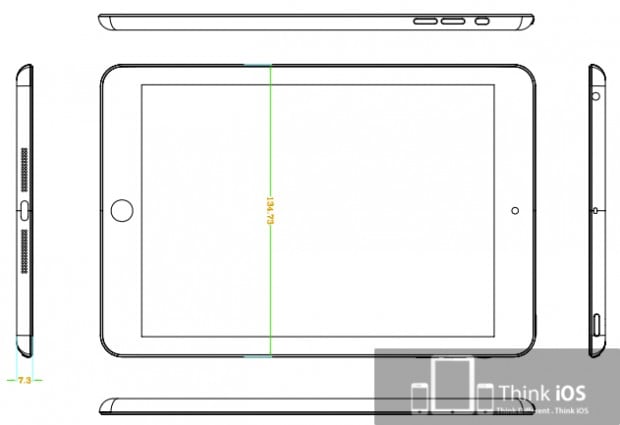 Our source who provided the images of the engineering sample earlier this week says the schematics match what they saw, so we're confident that these schematics are real, or they are very good representations of the images we posted. Unfortunately the source wouldn't comment on the size of the screen. However, it does seem that these measurements are true, or at least true to what they saw.
Think iOS's source claims the iPad Mini holds a 7-inch display. In our recent mockups based on the images we saw, we used a 7.85-inch display that we've heard about recently. The schematics still look similar to out mockups, which is strange given the two different screen sizes we heard about.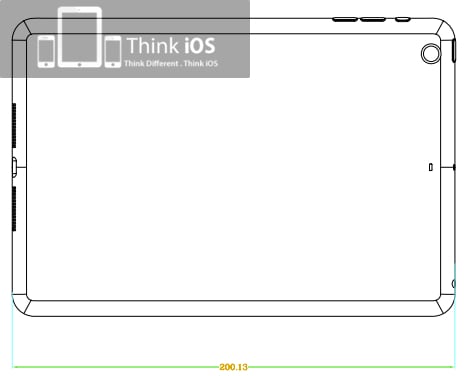 The schematics also come with a few cases for the iPad Mini, but they're just cheap plastic cases made from the schematics. We already know case manufacturers create cases before companies like Apple announce new products, though we don't usually see cases for entirely new products, just redesigned ones.