New iPad Orders Slip Past Release Date
While many have already ordered the new iPad and seen it ship out from China on the way to a March 16th delivery, it appears that some are being told that their device will, in fact, be missing launch day delivery. Right now, it appears that the delayed shipments are centered around some orders in the United Kingdom and those affected are receiving messages telling them that the shipment won't arrive until a few days after the 16th arrives.
The evidence comes from The Verge, which has posted an order update from Apple that details the delayed arrival.
In the message, the person who ordered the new iPad is informed that the shipment will be arriving on March 20th, four days after the iPad is scheduled to become widely available.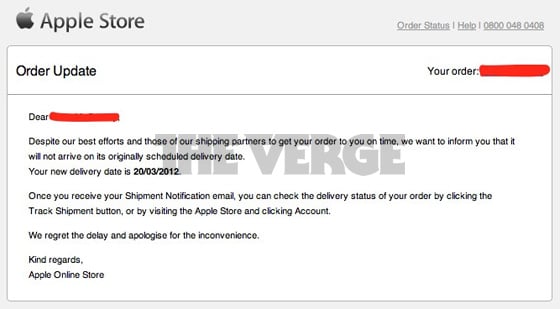 And it appears that others are being told that the device won't arrive until March 21st.
It's unclear if pre-orderers in any of the other 10 places where the iPad is currently available are seeing a delay. Those launch markets of course include the United States and Canada as well as:
United Kingdom
France
Germany
Switzerland
Japan
Hong Kong
Singapore
Australia
We have heard that iPad orders are already shipping out of China ahead of the device's launch and for the most part, it seems that those who pre-ordered on launch day will indeed get release date delivery.
We've also seen pre-order dates for the device slip as well as sell out in both France and Germany.
So it's clear that Apple and its shipping partners, as it references in the email above, are definitely strained.
And as we get closer to launch, we expect shipping dates to slip even further.

This article may contain affiliate links. Click here for more details.