New iPad Pre Order Ship Dates Start to Slip
The new iPad launched on March 7th, with immediate pre-orders. After an initial rash of downtime, the Apple Store began processing preorders swiftly.
Through the first 12 hours of demand, Apple processed countless orders and appeared to keep up with demand, but this morning ship dates started to slip.
(Read: Which New iPad Models We Bought and Why)
If you are planning on ordering a new iPad for delivery on release day, you should probably head over to Apple.com and get your order in before the wait gets longer, unless you plan to camp out on March 16th.
So far the only models that have slipped are the new iPad 16GB and 64GB 4G LTE AT&T models. The good news is you only have to wait three extra days to get your new iPad.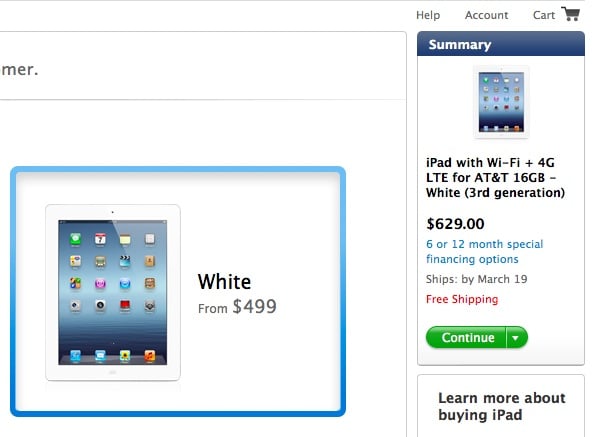 Still, this is a sign that Apple's iPad reserve could be nearing the bottom, for those orders to be delivered by March 16th anyway.
It is impressive to see Apple still offering the new iPad 16 GB WiFi model for release date delivery. Typically the lowest cost iPad sells out fast, especially at retail. Apple had reportedly monopolized shipments out of China to bring as many iPads to the U.S. and other launch day countries, and it seems that has worked.
(Read: New iPad 3rd Generation Hands On Video Roundup)
The other possibility is that Apple's new iPad hasn't resulted in the same demand to upgrade, demand that led to an iPhone 4S pre-order sell out, and over 1 million units shipped, in the first day.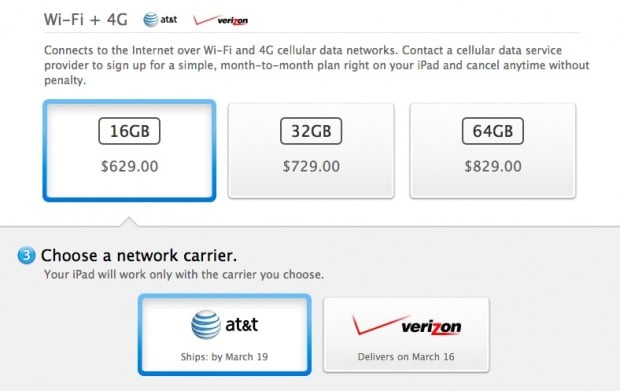 We should have some idea about the number of new iPad preorders within the next day or two as analysts weigh in on estimated new iPad orders.
Until then, you can still order most of the new iPad models for delivery on March 16th, and avoid waiting in lines for hours.