New iPad Release Date: March 16 in U.S., Germany, Japan and U.K.
Apple has announced its next iPad, as of right now called the new iPad, and while it has rundown a host of the new features that will be coming along with the gadget, it has also revealed the new iPad release date. As expected, the new iPad will become available on March 16th, nine days from today, and it will be launching in a host of countries including the United States, Germany, Japan and the United Kingdom.
Pre-orders for the device will begin today, Apple did not take pre-orders for the iPad 2, and it will be rolling out at the same $499 starting price point.
This is huge news for those outside of the United States as it took several weeks after the iPad 2's release date for it to arrive on shelves.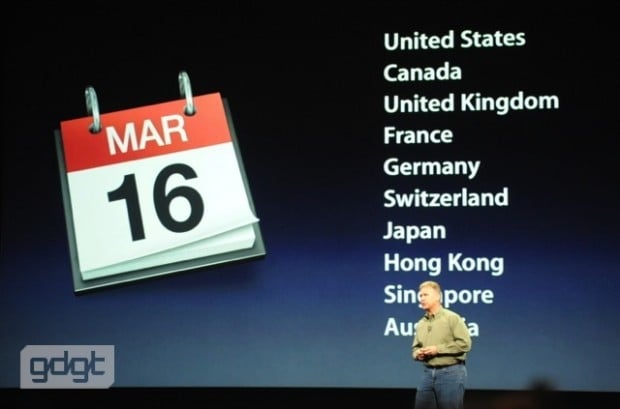 The full list of countries that will see it on March 16th include:
United States
Canada
United Kingdom
France
Germany
Switzerland
Japan
Hong Kong
Singapore
Australia
Those looking to pick up the new iPad will be looking at a fully upgraded device complete with 4G LTE connectivity, a high-resolution Retina Display that offers quadruple the resolution of the previous versions of the iPad, and a new iSight camera capable of shooting 1080p video.
It'll also be coming with a new A5X processor, with the X standing for quad-core graphics. Apple says that it will trounce NVIDIA's Tegra 3 quad-core processor in performance although we have yet to see any benchmarks.
Again, the new iPad will be out on March 16th in markets around the world and you will be able to pre-order to it starting today.