New iPad Review (3rd Gen)
If you like the original iPad or the iPad 2, you're going to love the third generation iPad. As with many recent Apple products, the new iPad is a rehash of its predecessor rather than a complete redesign. That's OK in my book as there's simply no reason to mess with a formula that millions of customers love. The iPad is the new iPod. It is, and deserves to be, the default choice for tablet shoppers.
There's more than enough new features to justify upgrading from an older iPad, especially for mobile iPad users and those who create content on their tablets. If you're completely satisfied with the iPad 2 and you don't feel constrained in any way, then save your cash.
The iPad is the tablet I feel most comfortable recommending to friends and family at this time. Its improved display, 4G LTE capabilities and excellent battery life are why we've awarded the new iPad a GottaBeMobile Editors' Choice Award.
Pros

Retina Display
4G LTE
Battery Life
App Selection and Quality
Accessories/Ecosystem
Affordable starting point

Cons

Heavier than iPad 2
Won't fit all old accessories
Pricey upgrade options
Dongles required
iPad Retina Display
The new iPad (iPad 3) looks nearly identical to the iPad 2, with many of the improvements invisible at first glance. On the other hand, the new iPad Retina Display jumps out at you the minute you turn it on. Everything on the new iPad's display is clearer and crisper.  In addition to bringing out new details when you look at pictures and providing a beautiful canvas for games and movies, the new Retina Display gives you much sharper text, which delivers better reading experience on the web and in eBooks.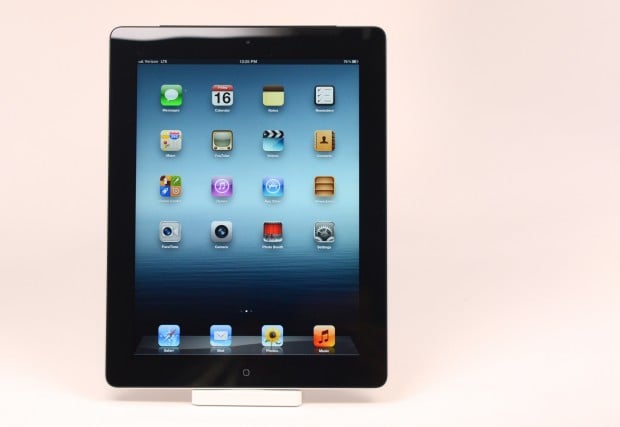 The iPad Retina Display resolution measures 2048-by-1536-pixel resolution. With 264 pixels per inch (ppi), Apple claims its impossible for the human eye to see individual pixels. This is a lower pixel density than the iPhone, but you will typically hold the iPad farther away than the iPhone. Even close up, pixels are tough to distinguish.
(Read: Why the New iPad's Retina Display Matters)
The Retina Display isn't going to change your life, but it is perhaps the best mobile device available. Text is very crisp and easy on the eyes and the display shines when you start looking at photographs. The more you use the new iPad, the more you'll see where the increased resolution matters.
Unfortunately, the new iPad display isn't that great to use outdoors since it's highly reflective. You'll want to pick up a Kindle or Nook if you want to read eBooks at the beach.
A Faster iPad
The new iPad has a new processor on board, but the main area of improvement is in the graphics power. If you are browsing the web, responding to email and creating documents, you will not notice a difference from the iPad 2. The Pad 2 is plenty fast for most users.
The new graphical power will be most noticeable in the latest iPad video games, such as Epic's Infinity Blade Dungeons and Namco's Sky Gamblers. You won't see an immediate difference in performance of current games, but as developers release updates that support the Retina Display and make other changes, the new iPad will have an edge.
Check out the detail in this trailer for Infinity Blade Dungeons. It is best viewed in 1080P and you can get an idea of what to expect.
https://www.youtube.com/watch?feature=player_embedded&v=4Rp-TTtpU0I
There's a reason Apple didn't show off speed demos for apps besides video games – most users simply won't notice the difference on most apps. That could change as developers begin pushing the limits of the new iPad.
The new iPad is incredibly responsive. Jumping between apps, launching new apps and playing games or video happen quickly and without the stutters you experience on some iPad competitors. There's no noticeable improvement over the iPad 2 for these basic tasks however.
iPad 4G LTE
The iPad is the only tablet that offers wireless broadband on your own terms. It's also the first Apple device available with 4G LTE. Selecting an AT&T or Verizon compatible iPad costs $130 more than comparable WiFi only models.
The thing I love most about the iPad's 4G scheme is that customers DO NOT need to sign a long-term wireless contract. Instead, you can sign up for a 4G LTE plan whenever you need it and shut it off whenever you want to avoid recurring charges. Verizon and AT&T 4G LTE offer speeds that are faster than most home Internet connections, though you will need to keep an eye on data limits as you'll need to pay per GB.
(Read: Which iPad 4G LTE Plan is Best for Me?)
Some users never need mobile data on their iPads, while others simply can't live without it. If you're on the fence and can spare $130, I recommend buying an iPad with 4G for peace of mind and future proofing your purchase a bit.
Many iPad users find themselves in situations where they could really use mobile data, such as when traveling and being hit up by hotels, airports and cafes to pay for WiFi access. While it can be more affordable to connect an iPad to a smartphone while on the go, the 4G iPad offers the smoothest Internet experience. You won't have to fuss with passwords or drain your phone's battery.
| | | | |
| --- | --- | --- | --- |
| Carrier | Data Per Month | Price | Price Per GB |
| Verizon Wireless | 1GB* | $20.00 | $20.00 |
| Verizon Wireless | 2GB | $30.00 | $15.00 |
| Verizon Wireless | 5GB | $50.00 | $10.00 |
| Verizon Wireless | 10GB | $80.00 | $8.00 |
| AT&T | 250MB | $14.99 | $59.96 |
| AT&T | 3GB | $30.00 | $10.00 |
| AT&T | 5GB | $50.00 | $10.00 |
Both Verizon and AT&T versions of the new iPad will delivery blazing fast 4G LTE speeds, as we found in our new iPad Speed test which you can watch below. We ran multiple speed tests on Verizon 4G LTE and AT&T 4G LTE on two new iPads, and then downloaded the same iTunes album over 4G LTE.
I found that AT&T and Verizon both offer a speedy 4G LTE connection for the iPad, so the speed shouldn't play a major role in your decision. The bigger factor is coverage. AT&T provides coverage in 28 markets to 74 million people, while Verizon's larger 4G LTE network covers 200 million people in 196 markets.
Of course coverage near where you live and work matters most. I recommend trying out a 4G LTE iPad on each network in your neck of the woods if possible. While both networks' 4G LTE performed admirably at the Stonestown Galleria in San Francisco where I purchased our test iPads, only Verizon delivered LTE speeds in my home office, with AT&T failing to connect after multiple attempts.
If you live in an area with Verizon 4G LTE coverage you should go with that network, even if you have an AT&T iPhone. If you live in a 3G-only area, you should keep in mind that AT&T's 3G and "4G" HSPA+ networks are faster than Verizon's in most areas. The speed test below shows Verizon vs AT&T on 3G, with AT&T outpacing Verizon.
iPad iSight Camera
The iPad finally has a respectable camera that is very similar to the one found on the iPhone 4S. The iPad's camera shoots photos at up to 5 MP, which is less than the iPhone 4S camera's 8MP.
In most practical applications, the megapixel difference doesn't matter. The new iPad uses the same five-element lens found on the iPhone 4S. It is the optics and image processing that make the iPhone 4S and new iPad photos look excellent compared to most mobile devices.
You can get an idea of the image quality of the new iPad's camera in the sample photos below.
The new iPad camera can also shoot video at up to 1080p, which is the same resolution as most HDTVs. Below you can see a sample video shot with the new iPad. The sample video was uploaded to  YouTube at 720P directly from the iPad.
Unfortunately, Apple didn't improve the iPad's front-facing camera. It'll suffice for FaceTime calls and PhotoBooth self-portraits, but these pictures won't be good enough to frame.
iPad Battery Life
The new iPad has a monster battery that keeps it running for about the same amount of time as the iPad 2 while powering the Retina Display and 4G LTE. Many 4G LTE devices sacrifice battery life for speed, but that's not the case here since the new iPad's battery is twice the size of the iPad 2's.
Apple claims that the new iPad 3rd generation will last for 10 hours of Wi-Fi, watching video, or listening to music and up to 9 hours of the same activities over 4G LTE. Apple is fairly conservative with battery life estimates so we expect to see similar or longer run times in real world use. We'll be updating the review with iPad battery life tests shortly.
The downside to this huge battery is that it now takes the iPad a long time to charge. It can take up to 7 hours  to charge it completely when you aren't using it, and much longer if you are using the iPad while it's charging.
Software & Apps
Apps, software and the overall user experience are more important than individual hardware upgrades. iPad app selection and quality is constantly improving, with the new iPad spurring even better apps into existence.
Apple built several new software features into the new iPad that we like, with Dictation being the most useful.  Dictation turns your voice into text, making it much easier to draft long emails and documents. Third party apps have done this before, but now the new iPad has a microphone button on the keyboard that lets you dictate from any text box, in any app, as long as you have an Internet connection.
Dictation is fairly accurate, but some users, especially those with heavy accents, will get frustrated as the transcriptions aren't always perfect.
Apple also introduced iPhoto for the iPad. This new app allows you to manage your photos on the go, creating journals of favorite photos and edit your photos. At $4.99, this app is affordable and makes it easy for the average user to make their photos look better. In the video below, you can see iPhoto for the iPad in action.
https://www.youtube.com/watch?feature=player_detailpage&v=3HKgK6iupls
We are already seeing apps updated to take advantage of the Retina Display. Evernote has been updated to deliver crisper text, as has the Kindle app for iPad. We expect games to update soon, offering better visuals, but larger downloads.
(Read: 33 Apps Support Retina Display for new iPad Launch)
Apple offers more than 200,000 iPad apps. Compared to the PlayBook and Android tablets, this is a massive number of apps optimized for the large screen. The App ecosystems is a vital part of the iPad's success and a reason to pick the new iPad over the competition. Developers typically release iPad versions of apps weeks or months before Android versions.
What Could Be Better?
The Retina Display means everything from photos and videos to apps and movie rental will take up more space. Some users will find the 16GB iPad has adequate space, but others will find even 64GB isn't enough. That might sound ridiculous to some people, but 64GB isn't that much once you start installing 300MB to 1GB apps like Infinity Blade II and FIFA 2012 and 3.5 GB 1080PHD Movies from iTunes.
Apple should have introduced a 128GB version of the new iPad for power users and those who use the iPad as their primary computing device.
Apple forgoes the iconic white headphones that are found in every iPhone box, which is a shame because the mono speaker is still mediocre and faces away. Apple should move the speaker so it points forward like the PlayBook's. Apple could also add stereo speakers while they are at it.
The new iPad runs much warmer than the iPad 2. It's not going to burn your skin or anything, but the heat is noticeable, especially when running video games or browsing over 4G LTE.
The extra thickness isn't very noticeable, but iPad 2 users will definitely feel the weight difference. As you can see in the photo above, the difference between the iPad 2 and new iPad thickness is about the thickness of a paperclip. The increased weight is a necessary evil to maintain the battery life iPad 2 users are accustomed to.
The iPad's Safari browser still has limitations that sometimes forces users back to a "real" desktop browser. Some sites simply won't load on the iPad's browser and others don't function properly, especially those that use Adobe Flash. Whether you like it or not, visiting many sites will prompt you to download an iPad app rather than just showing you the content you're after.
There's still no iPad Mini. The iPad is too big for a lot of people to tote around town. I wish Apple would introduce an 8-inch iPad, which would make 4G LTE a more attractive since more users would take the iPad out of the house more often.  Apple will inevitably diversify the iPad line, but variety and choice would be good now
(Read: 5 New iPad 3rd Gen Accessories We Want)
There are a number of new iPad cases and covers from third parties, but we wish Apple put a little more effort in this department. An official Apple iPad keyboard case would sell like crazy, as would a Bluetooth 4.0 connected stylus, wireless charging or a Smart Cover that protects the whole iPad.
(Read: New iPad vs. iPad 2 vs. iPad 3)
Recommended New iPad Accessories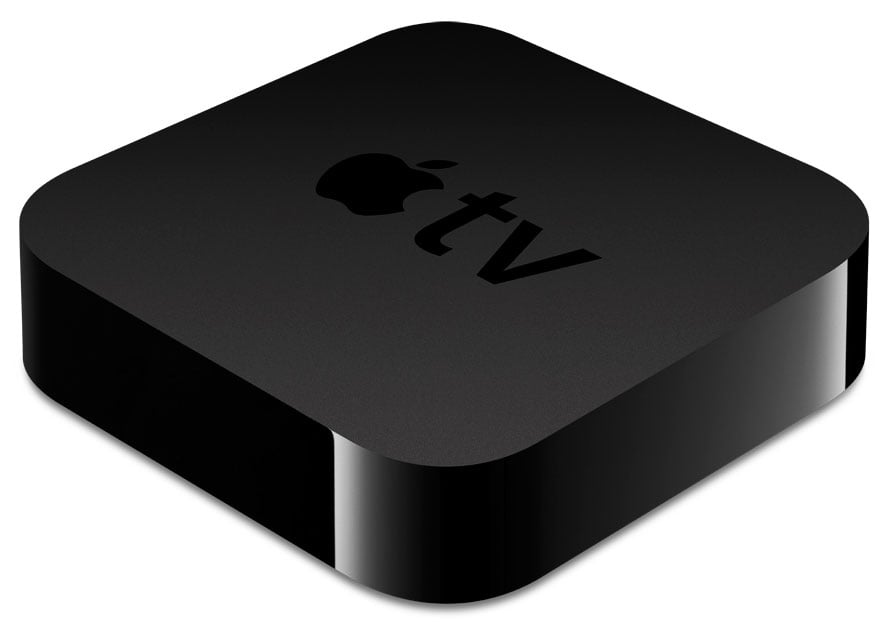 If you plan to purchase the new iPad, you'll want to protect it and extend the functionality with a collection of new iPad accessories. Normally you need to wait weeks for a good selection of cases, but since the design didn't change much you have a large number of new iPad accessory choices.
(Read: 35 New iPad Cases, Skins, Covers and Sleeves)
Apple still offers the same Smart Cover that launched with the iPad 2 last year. The Smart Cover protects the display, and allows you to use your iPad in a several positions, but leaves the back of the new iPad open to scratches. There are several Third party cases that offer similar functionality and better protection.
The best accessory for your new iPad is the new Apple TV. Capable of 1080P HD video playback, this small box connects to your HDTV and allows you to mirror your iPad to the HDTV as well as stream iTunes purchases and Netflix.
(Read: Apple TV 1080P Review – 2012)
Cases are a very personal choice, but if you need help, check out the new iPad accessories we bought.
New iPad Pricing
The new iPad starts at $499, and goes up to $829 for a 64 GB 4G LTE model, but most users will want to go for the cheapest iPad.
| iPad Prices | 16GB | 32GB | 64GB |
| --- | --- | --- | --- |
| WiFi | $499 | $599 | $699 |
| WiFi + 4G LTE | $629 | $729 | $829 |
The 16GB iPad 3rd Gen is the best value because it delivers most of the experience and almost half the price, of the 64 GB 4G LTE model.
Apple charges a premium for 4G LTE connectivity and additional storage. If you can afford the extra $100, you may want to upgrade to the 32GB iPad.
(Read: Why I Might Regret Getting the 16GB iPad)
Unless you take your iPad with you on trips or are planning to use it for business, 4G LTE may not be worth the additional $130. Many smartphones offer hotspot functionality to get your iPad online at similar prices.
Buying Recommendations
The new iPad includes a number of upgrades and new features, which have a lot of potential buyers asking, "Should I Buy the new iPad?", or "Should I Upgrade to the new iPad?"
Our New iPad Buyer's Guide answers all your questions from which size iPad you should buy, to which 4G LTE model is best for you. Below, you'll find a few of our recommendations based on common users and usage scenarios.
Students
If you're on a tight budget and already own an iPad 2 that you use primarily for school it's going to be tough to justify the upgrade. If you're buying your first iPad I strongly recommend going with the new iPad (3rd generation) over the iPad 2. Even though the iPad 2 is $100 cheaper at $399, you'll appreciate the Retina Display and enjoy better resale value if you want to upgrade in a year or two.
Business Users
Road warriors should dump their old iPads on the spot and pony up $629 for the iPad WiFi + 4G or a higher capacity model, especially if their companies will foot the mobile broadband bill. Everything you show customers on your iPad will look better and you'll be able to create on the fly with access to company data and assets thanks to fast 4G LTE.
Media Junkies
Do you use your iPad to watch TV Shows and Movies? If you can't get enough of 1080P content, you should buy the new iPad (3rd Gen). If you are upgrading, you'll want to remember that you're still watching 1080P on a 9.7″ display, so it's not going to replace your HDTV. If you spend a lot of time or money watching movies on your iPad you'll enjoy the Retina Display a lot.
Occasional iPad Users
Some iPad users go days without touching their tablets, opting to do most of their computing and browsing on laptops and smartphones. If the iPad is your 3rd or 4th screen you don't need to rush out and buy the new iPad. Yes, it's a huge improvement in some regards, but they don't matter if you are a casual iPad user and don't have money to burn.
iPad Gamers
iOS game addicts are going to benefit the most from the iPad's new features. The quad core graphics will soon be put to the test with games designed for the Retina Display and increased power. One developer is already claiming that the new iPad will compete against Xbox and PS3 as a gaming platform.
iPad Alternatives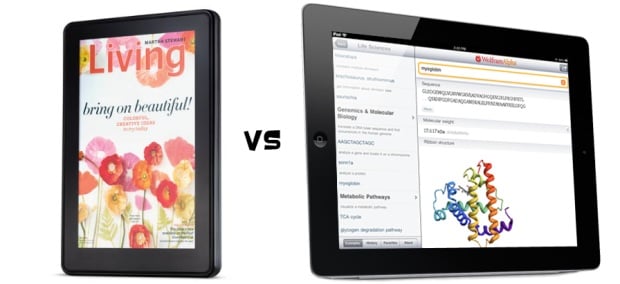 If you want a small or cheap tablet, the new iPad isn't the best choice for you. The Kindle Fire and Nook Tablets offer a more portable size and a much more attractive $199 price tag.
(Read: Kindle Fire vs. iPad 3rd Gen)
The Galaxy Tab 7.7 is another option, though it is an expensive commitment when you sign a 2 year contract.
(Read:  5 iPad Alternatives for iPad Haters)
If you need a pen, check out the Galaxy Note 10.1, and the Transformer Prime with a keyboard dock is another favorite.
There are use cases where Android or Windows tablets make more sense than an iPad, but you should keep in mind that most apps and services come to the iPad before Android.
New iPad Specs
iPad 3rd Gen
Size/Weight

Height: 9.50 inches (241.2 mm)
Width: 7.31 inches (185.7 mm)
Depth: 0.37 inch (9.4 mm)
Weight: 1.44 pounds (652 g)

Height: 9.50 inches (241.2 mm)
Width: 7.31 inches (185.7 mm)
Depth: 0.37 inch (9.4 mm)
Weight: 1.46 pounds (662 g)

Storage
16GB — 32GB — 64GBThe 16 GB iPad will hold about 3,500 MP3s, 32GB 7,000 and 64GB 14,000.The 16 GB iPad will hold about 3 full length 1080P HD movies, 32GB 7 and 64GB 15.The 16 GB iPad will hold about 8 1 hour 1080P HD TV Shows, 32GB 17 and 64GB 32.
Display

Retina display
9.7-inch (diagonal) LED-backlit glossy widescreen Multi-Touch display with IPS technology
2048-by-1536-pixel resolution at 264 pixels per inch (ppi)
Fingerprint-resistant oleophobic coating

Processor

Dual-core Apple A5X custom-designed, high-performance, low-power system-on-a-chip with quad-core graphics

Wireless and Cellular

Wi-Fi (802.11a/b/g/n)
Bluetooth 4.0 technology

Wi-Fi (802.11a/b/g/n)
Bluetooth 4.0 technology
4G LTE on Verizon and AT&T

Cameras

5-megapixel iSight camera
Autofocus
Tap to focus
Face detection in still images
Video recording, HD (1080p) up to 30 frames per second with audio
Video stabilization
FaceTime camera with VGA-quality photos and video at up to 30 frames per second
Photo and video geotagging

Battery

Built-in 42.5-watt-hour rechargeable lithium-polymer battery
Up to 10 hours of surfing the web on Wi-Fi, watching video, or listening to music

Built-in 42.5-watt-hour rechargeable lithium-polymer battery
Up to 10 hours of surfing the web on Wi-Fi, watching video, or listening to music
Up to 9 hours of surfing the web using cellular data network

Connections

30-pin dock connector port
3.5-mm stereo headphone minijack
Built-in speaker
Microphone

30-pin dock connector port
3.5-mm stereo headphone minijack
Built-in speaker
Microphone
Micro-SIM card tray

Sensors

Accelerometer
Ambient light sensor
Gyroscope

Location

Wi-Fi
Digital compass
Assisted GPS
Cellular
Josh Smith contributed to this review

As an Amazon Associate I earn from qualifying purchases.