New iPad Smart Cover with Keyboard on the Way?
Apple could be preparing an iPad Smart Cover that features a keyboard of its own, taking away one of the key advantages of Microsoft's Surface 2 tablet.
That's if a new patent revealed this week by Patently Apple is an accurate indication of the company's future plans. The illustration included in the patent application Apple submitted to the United States Patent & Trademark Office makes it clear that Apple is gunning for the Surface's cover accessories.
Instead of consisting of one flat cover that includes the keyboard built-in keyboard like on the Surface, Apple's iPad Smart Cover with keyboard could consist of two separate parts: a cover flap that shields the top of the iPad's screen and a section that would attach to the bottom of the iPad and hold the keyboard itself.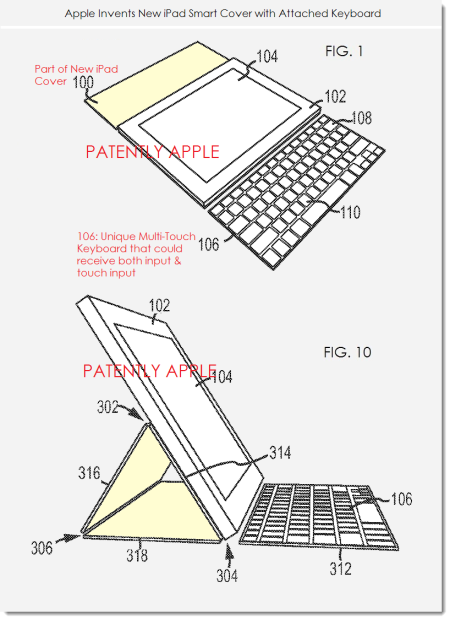 Getting to work would be as simple as folding the top half of the cover back and using the keyboard. The keyboard described in the patent application would also be able to interpret multitouch gestures so that users could pinch-to-zoom in on a photo on the keyboard instead of on the iPad's screen itself.
For comparison, all of Microsoft's cover accessories for the Surface family of tablets consist of one flat piece of material. The keyboard itself is then built into the internal side of the cover that faces the Surface's screen. There are three different types of covers for the Surface, one that doesn't have any physical keys and is very similar to what Apple is trying to patent, another that includes actual physical keys and a third that includes physical keys and an extra battery that doubles the life of the Surface 2, Surface Pro 2 or Surface Pro. Microsoft's Surface Touch Cover 2 is able to interpret multi-touch gestures just like those that Apple proposes in its patent filling.
It's a pretty bold move for Apple. The Touch and Type Covers are a key part of why buyers are attracted to the Surface line in general. The thinking is that the covers help Surface users stay more productive than iPad users. Of course, iPad users have had a number of external Bluetooth keyboards to choose from for ages. For example, Logitech launched a new line of Folio iPad keyboard cases just last year.
Read: iPad Keyboard Case Buying Guide
Apple hasn't confirmed that'll introduce any a Smart Cover with keyboard for the iPad, however a former Apple employee claimed the company was definitely working on one late last year.