New iPad Teardown Reveals Massive Battery
One of the reasons that Apple held off on releasing a 4G LTE enabled device was because of the battery drain that the network inflicts on the devices that run on its network. Apple wanted to make sure that its 4G LTE devices had great battery life and it seems that it was able to accomplish that goal as the 4G LTE iPad comes fairly close to the promised 9 hours of battery life on the networks of AT&T and Verizon.
How was Apple able to accomplish this?
By putting a massive battery inside of the new iPad.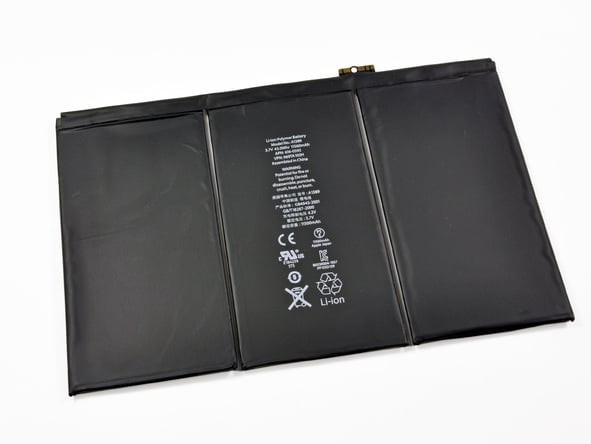 The iFixit teardown has revealed that the new iPad holds a 42.5 watt-hours lithium-ion battery. The iPad 2, in comparison, used a 25 watt-hour Li-ion battery. So this is a huge jump.
And while the new battery has a similar 3.7 volts to the iPad 2's, that extra wattage should go a long way.
Apple is not known to embellish the battery life on its products and this year's iPad is no different. The company thoroughly tested its iPad putting it under stress tests that represent real life usage.
Here's how Apple tested the battery life on the new iPad:
Video content was a repeated 2-hour 23-minute movie purchased from the iTunes Store.
Audio content was a playlist of 358 unique songs, consisting of a combination of songs imported from CDs using iTunes (128-Kbps AAC encoding) and songs purchased from the iTunes Store (256-Kbps AAC encoding).
Internet over Wi-Fi and cellular data network tests were conducted using dedicated web and mail servers, browsing snapshot versions of 20 popular web pages, and receiving mail once an hour.
All settings were default except: Wi-Fi was associated with a network (except for Internet browsing over cellular data network)
The Wi-Fi feature Ask to Join Networks and Auto-Brightness were turned off.
Reviews have pegged the 4G LTE version as getting a little less than the promised 9 hours of battery life but it's extremely close.
And with the powerful specs that are on board the new iPad, it sets the bar for other tablets, just like the iPad has done year after year.