New iPad Video and TV Ad Live on Apple's Website
Apple announced the new iPad today, which many of us are still calling the iPad 3, with a Retina Display, 4G LTE, a faster processor and improved graphics.
Apple showed of the new iPad on stage today in a series of videos showing off the iPad in use around the world.
Read: New iPad Announced
Apple has now posted the iPad promo video, explaining why you'll love the new iPad.
The first 5 minute iPad video talks about all the new iPad 3 features, including the gigantic resolution. If you want to know about the iPad's new Retina Display, you'll want to watch this video.
Watch the new iPad promo vide0s at Apple.
Apple has posted 7 new iPad videos showing off the new features and apps.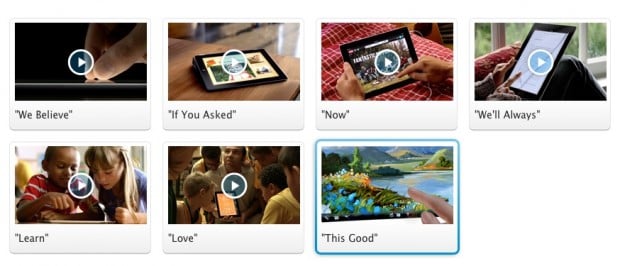 Apple will post these videos to YouTube in the coming days, but until then you'll need to visit Apple.com to check out the new iPad experience.
We'll be bringing you new iPad hands on videos and news later today. If you are interested in the new iPad, even if you still want to call it the iPad 3, we suggest you camp out on March 16th or preorder the iPad to avoid waiting months.

As an Amazon Associate I earn from qualifying purchases.