New iPhone 5 Case Adds Ultra-Thin Controller and Keyboard
9To5Mac has the details on a new iPhone 5 case from iPhone5mod that adds a super thin keyboard and game controller to Apple's latest smartphone.
The new case, dubbed the EX Hybrid Controller for iPhone 5, is a snap-on case with two thin magnetic attachments. The attachments are both just 2mm thick, making the X Hybrid Controller the thinnest and lightest iPhone keyboard case ever, according to Chinese accessory maker iPhone5mod.
Users can choose to attach either control input to the back of the iPhone 5 case. Unlike most keyboard or controller cases, the inputs of the EX controllers are held in place by magnets instead of a sliding mechanism, which means the user has to remove the attachments to reposition them. The magnets make it possible for users to stack the two attachments or to just carry one at a time.
Read: Best iPhone 5 Accessories
The magnets also let users change the orientation of the iPhone 5 in relation to the keyboard. That means users can use the landscape keyboard with the iPhone 5 in portrait mode. The position is likely awkward to hold, but it's something that most other iPhone 5 keyboards don't do.
Both controller inputs connect to the iPhone 5 via Bluetooth 3.0, and iPhone5mod claims they will last for 40 hours off a one hour charge. The inputs will also last for 160 hours in standby mode.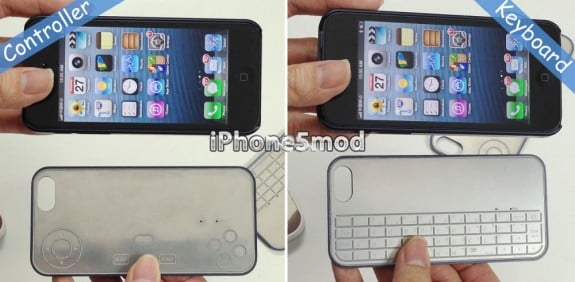 The thin aluminum keyboard and game controller are both waterproof and dustproof, though the case does not add those properties to the iPhone 5 as it only covers the back and sides of the smartphone.
The EX Hybrid Controller for iPhone 5 is now available from iPhone5mod for $49.90 and it comes in both black and white. Because the accessory ships from China the delivery time will take a long time, however. The default shipping method via Registered Airmail will take between 7 and 20 days to arrive in the U.S.