New iPhone 5 Dock Connector Called 'Lightning'
Apple has updated its proprietary dock connector format for the iPhone 5 and will be calling the new standard and connector 'Lightning.' Lightning will be an all-digital 8-signal design with an adaptive interface and 'improved durability' according to Apple. The design is said to be 80 percent smaller and is reversible. In addition, users with old dock connector cables can buy an adapter to convert their old connectors to support Lightning on the new iPhone 5, allowing users of older iPhone models to reuse their old cables with the new iPhone 5.
Previously, it was rumored that the new digital dock connector would be USB 3.0-compatible as Apple had recently updated its notebooks to support the faster USB protocol, which can deliver speeds up to 5 Mbps. However, during the keynote, Apple did not give speed claims for the new Lightning protocol.
According to Apple, we are now relying on varying wireless protocols to connect and sync our iPhones, including technologies like Bluetooth, WiFi, 4G LTE, 3G, AirShare, and iCloud. Lightning will help with the connectivity, but it seems like less of a requirement moving forward–primarily just for charging rather than synchronizing.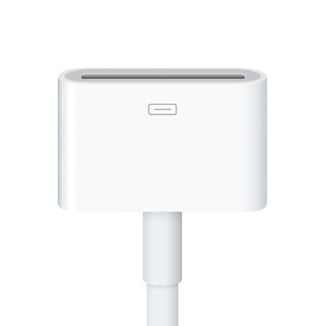 The smaller standard should be beneficial for those who use the phone and connect to a charger in their cars, primarily for GPS and navigation use. This way, you don't have to fiddle around with trying to plug in a larger connector.
Apple still hasn't given pricing for the cable or for the adaptor. We'll have to wait and see if the adaptor piece will play nice with speaker docks and other accessories for the iPhone.

As an Amazon Associate I earn from qualifying purchases.