New iPod Touch 2015: 5 Things Buyers Need to Know
There is a new iPod touch 2015 update available with new colors, new features and new options. We'll run down what's new with the new iPod touch and what buyers need to know about this new device.
Apple calls this, "The Best iPod Touch Yet." While that is a bold claim, compared to the old iPod touch, the new iPod touch 6th generation delivers an impressive mix of features and specs — including some it shares with the iPhone 6. There's even one feature that is coming first to the iPod and might hint at an iPhone 6s feature.
The new iPod touch 2015 update adds more colors, a better camera, more storage, a faster processor and the starting price is still an impressive $199. For some users the new iPod touch 2015 is a better fit than the iPhone 6.
The new iPod touch is available online today and it should be on store shelves at Apple Stores and authorized retailers by the end of the week.
"iPod touch gives customers around the world access to Apple Music, the App Store and iOS, the world's most advanced mobile operating system, starting at just $199," said Greg Joswiak, Apple's vice president of iPhone, iPod and iOS Product Marketing, adding, "With big advancements like the A8 chip and the 8 megapixel iSight camera, customers can experience next-level gameplay, take even more beautiful photos and enjoy their favorite music, TV shows and movies."
If you've been waiting for the new iPod touch 2015 release, here are the most important details you need to know about the new iPod touch.
New iPod Touch 2015: 5 Things Buyers Need to Know
iPod Touch Colors & Design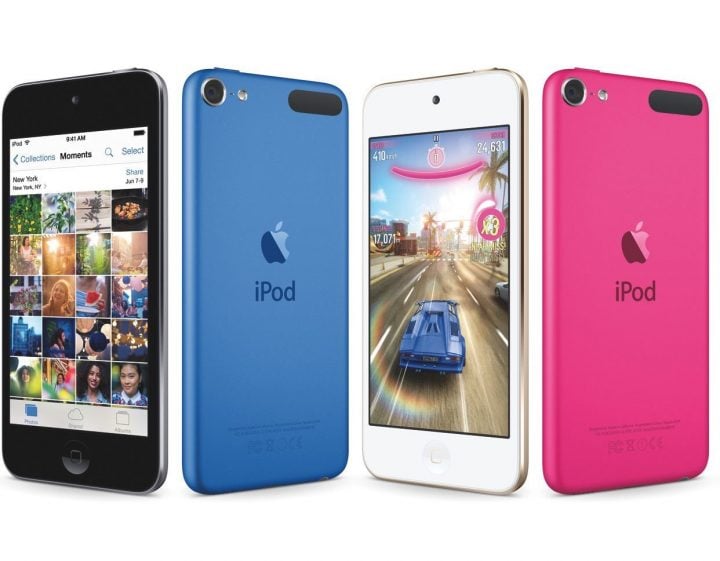 The iPod touch design changes slightly and Appel adds new iPod touch colors for users to choose from with the new iPod touch models.
There are now six iPod touch 2015 color options including space gray, silver, gold, pink and blue. The final color option is red and it is part of (Product) RED.
Apple leaves the home button, volume buttons and power button in the same locations and there is no Touch ID sensor. There is no longer an attachment loop option to hang on to the iPod touch.
The overall physical size of the iPod touch 6th generation remains the same as the earlier model, so cases should continue to work.