New iPod Touch Supports Voice Control and Memos (and probably VoIP)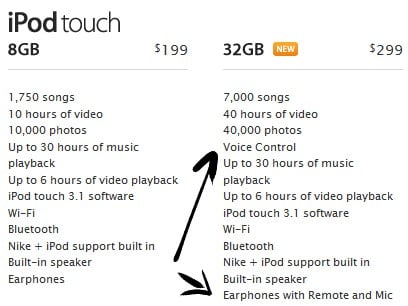 Here's a tidbit that seems to have slipped through the cracks: the new iPod touch supports Voice Control, Voice Memos, and presumably anything else that requires audio input via the included headphones with mic and remote (same as the iPhone's).
Stumbled upon it while looking at the tech specs page and noticed there are two separate pages for the 8GB and the 32/64GB versions. Apparently the 8GB either doesn't support this or Apple just wanted to save a buck by not including the better headset. I'm guessing it's the former, and a check of the features description seems to bear this out with only the bigger models cited as supporting voice. Surprised this wasn't mentioned at the event or in the press release (nor by anyone physically at the event) and disappointed it wasn't mentioned because this would have kept me from being bored.
The big potential with this is that the new iPod touch can easily be used as a VoIP phone via wifi (which perhaps explains why it wasn't mentioned). Throws a curve ball to those third-party attachments that were in the pipeline and leads me to question how this fits in to Apple's seemingly arcane strategy to keep the touch from cutting into iPhone sales. And I wonder if it will work with Bluetooth headsets too.

As an Amazon Associate I earn from qualifying purchases.