New Jailbreak App Allows Multiple iPad User Accounts
Some people who share iPads have long hoped that Apple would give them the ability to log on with different user accounts, much the way Windows or OS X does. We say fat chance – Apple wants everyone to buy their own iPad, not share the same one. Once again, though, the jailbreak community has come through to fill in the gaps left by Cupertino. As the folks at iDownloadBlog pointed out today, the new Cydia app iUsers allows multiple sign-ins for the first time on iOS.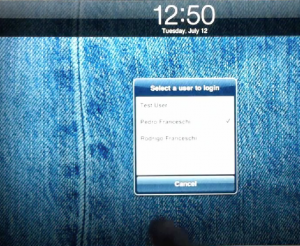 Say you're a parent and you want to let your child watch Elmo videos on your iPad, but you don't want him stumbling across the new Gameloft game 9mm. Previously, your only option was using a jailbreak tweak to hide said app before handing it over. That takes time, and doing/undoing every time you share your tablet. Now you can create an account for your child, reboot into it, and have no fears of his stumbling upon video game strippers or gang fights.
The app, by developer Pedro Franceschi, lets each user have his/her separate account – with username and password. When loading that account, each person will see his own homescreen, wallpaper, and even apps. The same apps will actually have their own separate data for each account, so Dad can have GottaBeMobile loaded in Safari, and give it to Jimmy to play Angry Birds. If Jimmy signs in with iUser, opening Safari will show no trace of GBM. Then when Daddy gets his iPad back in his clutches, GBM will still be waiting under his account. Neat, huh?
You can check out the developer's video of iUsers in action (complete with Jack Sparrow theme music):
To install the app, you'll first need to be jailbroken (our easy instructions here). After doing so, open Cydia, navigate to the Sources panel, select 'Edit,' then 'Add.' Enter the following source:
cydia.iblogeek.com
After it does its thing, search for iUsers and install! Any parents find this useful? Think of any uses we didn't? Let us know in the comments!

This article may contain affiliate links. Click here for more details.