Logitech Easy-Switch Keyboard Will Pair With Your iPad, iPhone and Mac
Logitech's new Bluetooth Easy-Switch Keyboard can connect to up to three different devices, making it perfect for users with a Mac, iPad and iPhone.
The Logitech Bluetooth Easy-Switch Keyboard can switch between three stored Bluetooth connections with the press of a button. The Mac keyboard layout makes it great for Apple fans who own a Mac and at least one iOS device. The aluminum finish complements Apple's use of the metal in all of its recent devices.
The keyboard is slim and lightweight, making it easy to carry around in a bag. To make the keys easier to type on Logitech uses its "Incurve" keys which are concave in the center and rounded on the edges. Logitech claims this makes it easier to locate each key and to move between them.
Logitech's "PerfectStroke" system also helps by distributing pressure across the key surfaces, which it says makes "every keystroke silent, natural, and fluid – even if you strike the edge of a key."
Logitech claims the Bluetooth Easy-Switch Keyboard can last between ten days and a year on a single charge. The time depends on the brightness of the backlight and how often the users uses the keyboard. Logitech bases its ten-day estimate on two hours of typing each day with the backlight at maximum brightness.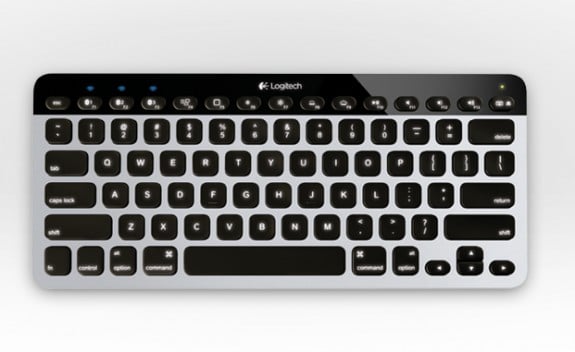 A motion sensor in the keyboard helps conserve power by turning off the backlight when the keyboard is not in use. There's also an on/off switch to turn the keyboard off completely when not in use.
The Easy-Switch Bluetooth keyboard isn't the first keyboard from Logitech to connect to multiple devices. Its recent solar-powered keyboard has a similar feature. That keyboard is larger, however, and doesn't have a backlight like the Easy-Switch.
The Logitech Easy-Switch Keyboard is available for pre-order now for $99.99. There is no estimate on when it will ship.