New MacBook Air Boasts 12 Hours of Battery Life on a Single Charge
Apple announced two new MacBook Airs today that offer all-day battery life at WWDC 2013 in San Francisco. The new 13″ MacBook Air can run for up to 12 hours on a single charge, while the new 11″ MacBook Air  for up to 9 hours. The 11″ model starts at $999 and the 13″ model starts at just $1,099.
The new MacBook Air models are available to purchase today from Apple.com. They will be available in Apple retail stores beginning June 12. Unfortunately, the new MacBook Air models will ship with OS X Mountain Lion rather than the OS X Maverick update Apple announced earlier today.
Read: Apple's MacBook Pro Line Not Refreshed at WWDC 2013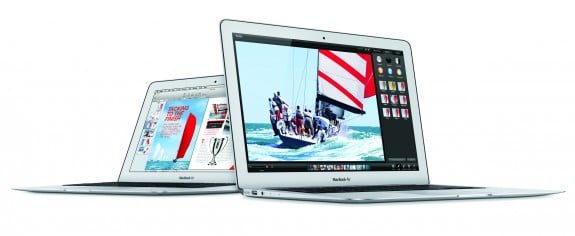 Apple's employing the latest Intel processor technology, codenamed Haswell. The processors are more energy-efficient and pack up to twice the graphics performance as what's found on the previous generation MacBook Airs. Apple claims it's using 45% faster flash memory in its solid state drives.
The 11″ MacBook Air remains the most affordable Apple laptop with a starting price of $999. Fortunately, Apple's now offering 128 GB of storage capacity with the base model, relegating 64 GB capacities to iOS devices such as the iPhone.
Faster processors and more storage is always nice, but long battery life is the most important upgrade for highly mobile users. Apple advertised the previous 11″ MacBook Air and 13″ MacBook Air with five hours and seven hours of battery life, respectively. While that's enough for some users, the new MacBook Air models offer true all-day battery life that will allow users to ditch the power cords when running around town.  Apple is generally conservative when quoting battery power potential. In our experience, MacBooks can outlast Apple's advertised claims with a few minor settings adjustments, such as reducing screen brightness.
The $999 and $1099 base prices are attractive and will serve many users just fine. However, those planning to use a MacBook Air as their primary machines should consider higher storage capacity and memory options. Moving up to a 256GB SSD costs $200, while a 512GB SSD will set buyers back $400. Going from the default 4GB of RAM to 8GB is $100 extra. Throw in the faster processor options and the low entry prices can swell all the way up to $1,749 for the 11″ MacBook Air and $1,849 for the 13″ MacBook Air.  Those prices might scare some away, but keep in mind that the MacBook Air line cannot be upgraded after purchase.
The 12 hours of battery power means MacBook buyers will have some tough decisions to make. The 13″ MacBook Pro with Retina Display is a more powerful computer, features a sharper display and is better suited to serve as a desktop replacement. The MacBook Pro with Retina Display however only musters seven hours of run time on a single charge however, which means buyers will have to choose between battery performance and versatility. The 13″ MacBook Pro Retina starts at $1,199 and can cost as much as $2,099 fully configured.
The new MacBook Airs will be able to communicate with other computers and networks thanks to faster wireless technology. According to Apple, the bundled 802.11ac Wi-Fi technology is up to three times faster than the 802.11n Wi-Fi cards in older MacBooks. Of course, MacBook Air users will need to buy a new Apple Extreme router or Time Capsule to take advantage of the increased speeds.

As an Amazon Associate I earn from qualifying purchases.