New MacBook Air Could Ditch Intel for Apple CPUs
While the rumored 2015 MacBook Air is most likely getting Intel's new Broadwell processors, future MacBook Air models could be equipped with Apple's own A-series processors that are currently in the iPhone and iPad.
It's been rumored for years that Apple would eventually make a move to its A-series chips in MacBooks, but a new report from KGI Securities analyst Ming-Chi Kuo suggests that it'll happen within the next couple of years.
Kuo believes that Apple's A-series processor will reach a level of performances that's comparable to Intel's Atom and Core i3 lines within the next couple of years. Kuo says that using in-house processors for MacBooks will allow Apple to have more control over the release cycle for its laptops.
This makes perfect sense, as 2014 was a rather lackluster year for the MacBook, as both the MacBook Air and the MacBook Pro only received minor upgrades, and Kuo says that it's because there were delays on Intel's Broadwell CPUs. If Apple had been using its own A-series chips, the company wouldn't need to rely on third-party manufacturers when deciding on a release timeline.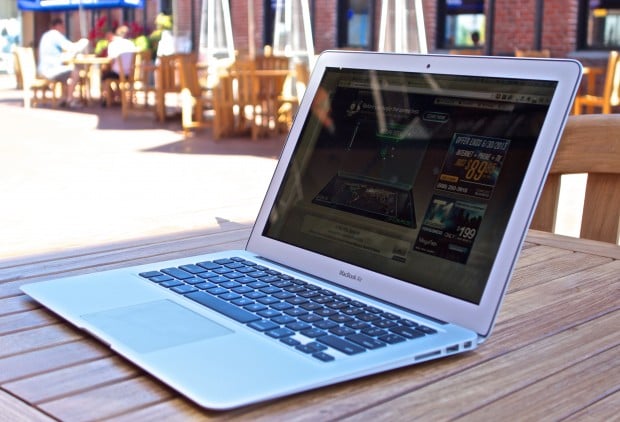 Whether or not this actually happens is up in the air, but Kuo has been spot on with many of his Apple reports, so while we're taking this one with a grain of salt, we wouldn't be surprised to see Apple make a move like this.
Production for the 2015 MacBook Air is rumored to have already begun, as it's said that suppliers have started to accelerate the manufacturing of the various components, essentially putting the 12-inch MacBook Air on a release timeline that could be ahead of schedule, aimed for March or around that time window.
The new 2015 MacBook Air is expected to come with a 12-inch Retina display and will likely replace the existing 11-inch MacBook Air, suggesting that the new 12-inch model will be the new entry-level MacBook Air, while the 13-inch MacBook Air will continue to sell in Apple Stores.
Of course, there are some details that we don't know about yet, even through rumors, including the price point, but if Apple does indeed replace the 11-inch model with the new 12-inch MacBook Air, it could be fairly inexpensive.
Just last week, a huge leak revealed details about the new MacBook Air, showing us what it would look like, along with new features, including less ports and a new USB Type-C connection that would be able to handle pretty much any connector, including the power cable to charge the MacBook Air.
Last month, there were a handful of rumors about the new MacBook Air, including reports that the new laptop would come with Intel's new Broadwell line of processors, which were announced at CES last week and should offer a bit of a performance boost, as well as one heck of a battery life boost.
These new Broadwell Core M processors are designed to run at a ridiculously-low 4.5 watts, which if you don't know a lot about how much power processors use, 4.5 watts is just crazy low. Thus, these new chips are destined for the next-generation fanless MacBook Air.
Likewise, these new chips run at lower frequencies, which means they're a little slower than what most mid-tier processors run at, but the trade-off is way better battery life.
If indeed Apple begins using its own processors for future MacBooks, it'll be interesting to see if they will continue to use Intel chips in their other Mac products, but we're not worrying about it too much right now.