New Macbook Air goes smaller and cheaper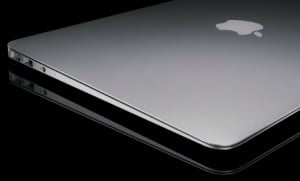 The "one more thing" at today's Apple event was a new Macbook Air. Steve teased us by mentioning some of the features they're taking from the iPad for this new MBA, but ultimately, it's just a smaller, newer model. Oh, and it has a younger brother.
So here's the deal, the new Macbook Air comes in two sizes: 11.6″ 1366×768 display and 13.3″ 1440×900 display. In either size, they're 0.68 inch at the back, tapering down to 0.11 inch at the front, and weigh 2.9lbs and 2.3lbs, respectively. Both feature Intel Core 2 Duo processors, NVIDIA GeForce 320m graphics, 2GB ram, cameras for FaceTime, and SSD.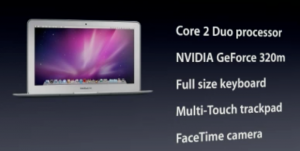 For the 11.6″ model, $999 will get you a 1.4GHz processor and 64GB SSD. For a $200 bump to $1199 bumps, you can upgrade to 128GB. The 13.3″ models feature 1.86GHz processors and cost $1299 for 128GB and $1599 for 256GB. Processor and memory bumps are also offered. Pricey compared to netbooks, but there are no Atom processors and cheap HDD in these. I'm surprised all the prices come in below what the cheapest MBA used to cost (which is sure to irk existing MBA owners).
The open case view of these notebooks show four big batteries and a tiny motherboard holding what it essentially the whole computer. Matches leaked photos that showed up earlier. Battery life is 5 hours on the small one, 7 hours on the big one, both measured by wireless web activity. Standby time is 30 days.
Steve made a note of saying these are instant-on devices, like the iPad, due to the SSD. True enough, SSD do allow resume from sleep in a second, but don't get that confused with "always-on" which allows your smart devices to do things like sound alarms and receive calls while they seemingly sleep. Still, these are easily the most portable Macs ever made.