New MacBook Air Release, Price & Features  
Apple, makers of the ever-popular iPhone and the new Apple Watch wrist accessory, hasn't forgotten about its traditional PC user roots. This morning at its Apple Watch event, Apple announced refreshed versions of the MacBook Air, the notebook that spawned the Ultrabook craze on Windows PCs.
Apple announced the newly upgraded versions of the MacBook Air this morning. These new versions of the MacBook Air will compliment Apple's entire lineup — including the new MacBook that's now thinner and weighs less than any previous notebook from Apple.
The MacBook Air will now fills a slot in Apple's line-up meant for new adopters and those on a budget. There aren't big changes to these new MacBook Airs in the looks department. Instead, Apple is building the new MacBook Air around the 5th generation Intel Core Processors. These are the same Intel Core i5 Processors that Windows PC makers have used to boost battery life and more.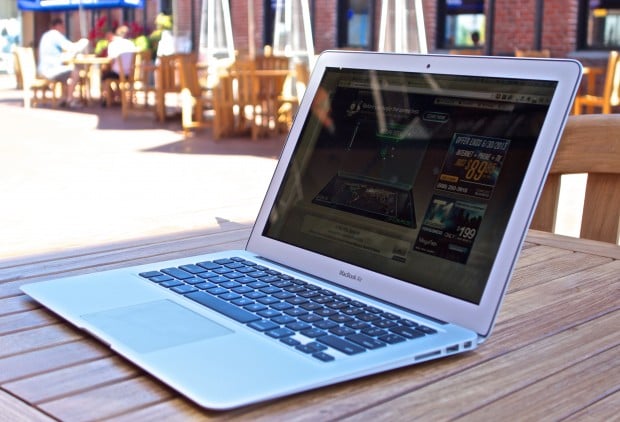 This year's version of the MacBook Air with an 11-inch display still cost users $899 and weigh's roughly 2.3 pounds. Apple is still promising 9 hours of battery life for the new MacBook Air. The new MacBook Air with 13-inch display still boasts 12 hours of use.
A MagSafe Power adapter, full-size USB port, headphone port an external card reader, a second USB port and a Lightning port for connecting to displays and other extras are present. In its entirety, Apple has left the new MacBook Air with 13-inch display and new MacBook Air with 11-inch display alone.
The new MacBook Air is available for purchase at Apple's online store right now.
With that, the MacBook Air seems set for a slow twilight. Right now, Apple is using the device to hit a lower price point since it's new MacBook costs $1,299. In the future, Apple could simply decide to axe the MacBook Air line as buyers embrace the smaller device and the technology changes that come with it. It's what the company did with the iPod line after the introduction of the iPod Touch and the iPhone.
Read: New MacBook Release, Price & Features
The new MacBook Air costs more because it is an aggressively premium device. There's only a single display size: 12 inches. That 12-inch display is of the Retina variety and has a resolution of 2304 x 1440 pixels. Beyond screen resolution, the main selling point on this new MacBook is size. It measures just 13.1 mm from top to bottom. It's the thinnest MacBook ever made. To achieve that Apple engineers had to rethink the things that users take for granted. Each key has a dedicated LED and new butterfly mechanism underneath. Apple says that the new mechanism feels better than what they've used in past MacBooks. A new battery technology allows the new MacBook to get what Apple is describing as "all day battery life."
The new MacBook also includes a pressure sensitive trackpad so that users can do things like press harder when they'd like to scroll faster.
The new LED and hinges aren't going to get users that upset. What is attracting raised eyebrows is Apple's decision to phase out typical USB ports entirely. The new MacBook uses a new USB C plug that requires dongles to connect with televisions, phones and other devices. Like with price, this decision also leaves the MacBook Air as the only reasonably priced portable Mac with a full bevy of ports.
Whether users will embrace not having as much expandability remains unclear. Apple does have some success with eliminating extra hardware when it sees fit. The original iMac required users to purchase a separate Floppy Disk drive. With the MacBook Air, Apple made it acceptable for every ultrabook to not include a DVD drive. Today, it's hard to even find a Windows notebook with a DVD drive.