New MacBook Air Release Rumors Continue to Swirl
Rumors have been flying high about a possible 12-inch MacBook Air that could release next year, and new reports suggest that the new machine will enter mass production during the early months of 2015.
According to Digitimes, the 12-inch MacBook Air will begin its mass production schedule at some point in early 2015, as it's said that suppliers have started to accelerate the manufacturing of the various components, essentially putting the 12-inch MacBook Air on a release timeline that could be ahead of schedule.
The report also says that this new MacBook Air will come with Intel's Broadwell line of processors, which should offer a bit of a performance boost, as well as one heck of a battery life boost.
These new Broadwell Core M processors are designed to run at a ridiculously-low 4.5 watts, which if you don't know a lot about how much power processors use, 4.5 watts is just crazy low. Thus, these new chips are destined for the next-generation fanless MacBook Air.
Likewise, these new chips run at lower frequencies, which means they're a little slower than what most mid-tier processors run at, but the trade-off is way better battery life.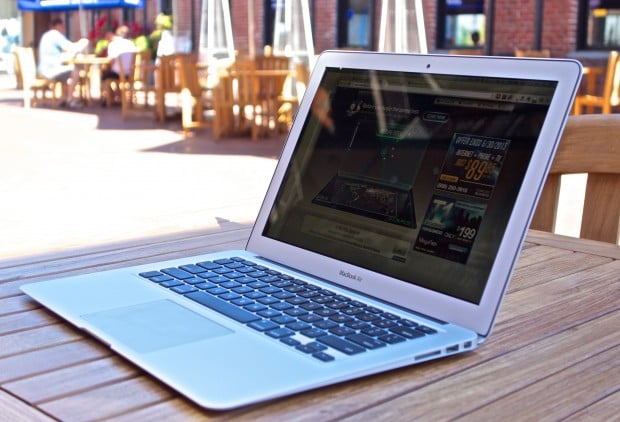 Of course, we're taking this Digitimes rumor with a huge grain of salt, as the website isn't the most reputable source to follow, but it goes along with other rumors that we've heard previously.
Thanks to a slew of new details from a rumor earlier this year, we can at least see what this new MacBook could end up being.
The new MacBook will supposedly support a 12-inch display that will sit between the 11-inch MacBook Air and the 13-inch MacBook Pro (and MacBook Air). However, it will come with a Retina display just like the newer MacBook Pros do, giving it a higher resolution and a crisper image.
Furthermore, alongside the new Type-C USB connector, the new MacBook 12-inch will supposedly get rid of the MagSafe charging feature in favor of another option, which is still yet to be decided on at this point.
The switch to the new USB Type-C standard could mostly be because of the thinner design, although it's also killing two birds with one stone because Apple will now be able to use the latest and greatest USB standard. Furthermore, the new USB port could also come with DisplayPort functionality, allowing users to plug in displays through the USB port. This could cut down on the amount of ports needed on the new laptop, but this is still very much a rumor and isn't close to even being confirmed yet.
As for some other smaller details, the keyboard design will leave "almost no space on the side", effectively giving users a large keyboard without sacrificing overall laptop size. Plus, it's said that the speaker location will be "above the keyboard and visible," which is different than current MacBook Pros, which have the speakers situated on the sides, while the current MacBook Airs have the speakers situated below the keyboard.
How will this new 12-inch MacBook compare to the current MacBook Air? Well, for starters, the 12-inch MacBook will most likely be similar to the MacBook Air, considering that it will take on a thinner and lighter design, which means that the 12-inch MacBook would be the optimal choice for portability purposes.
The 13-inch MacBook Air weighs just three pounds, but the 12-inch model that we could see will most likely weigh less. There are no specifics on weight or dimensions, but Apple seems to be aiming for an even lighter and thinner machine than the MacBook Air, so it's safe to assume this 12-inch model could be extremely light.

This article may contain affiliate links. Click here for more details.