New MacBook Pro Combines Best of Pro Series with Macbook Air
Today at WWDC 2012, Apple announced a new MacBook Pro that the company calls "the most beautiful computer" that it has ever made.
The new MacBook Pro is incredibly thin and, as expected, it features a gorgeous Retina Display that Apple says is the "world's highest resolution notebook display." The display is going to feature 2880 x 1800 resolution and the screen will measure 15.4-inches across It features 220 pixels per inch and it has reduced glare on the glossy display by 75%.
Apple's current 13-inch MacBook Pros feature 1440 x 900 resolution so this is a huge jump up from Apple's previous models.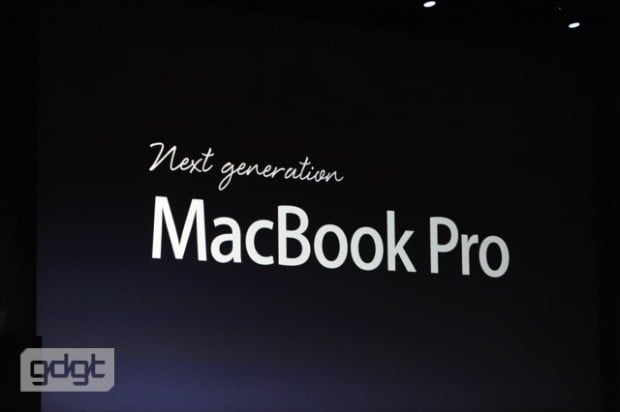 In addition to bumping up the resolution on the new MacBook Pro, Apple has also thinned down the device to a size more reminiscent of the MacBook Air.
It weighs just 4.46 pounds which is the lightest MacBook Pro that the company has ever produced. As far as the thin design, it sports a frame that is merely .71 inches thin. That's 25% thinner than the previous models.
The new MacBook Pro will be powered by up to quad-core i7 up to 3.7GHz and it will sport up to 16GB of RAM. It can be configured with up to 768GB of storage, which is fast flash storage, and graphics-wise it will feature next-generation Kepler graphics. Specifically, it will feature GeForce GT 650M.
Apple's new MacBook Pro will give users up to 7 hours of battery life.
As for ports, the new MacBook Pro will offer an SD slot, HDMI, and two ThunderBolt ports. It also has the familiar multi-touch trackpad, a backlit keyboard, dual-mics and Bluetooth 4.0.
The device will be shipping with OS X Lion as an operating system.
Pricing will start at $2199 and that will net customers a new MacBook Pro that features a 15.4-inch screen, 2.3GHz quad-core Core i7, 8GB RAM, GeForce GT650M 1GB, 256GB SSD, 7 hours battery.
Apple says the device will start shipping today. In-store availability is currently unknown.