Bad News: New MacBook Pro is Even More Expensive Than You Think
The new MacBook Pro is even more expensive than meets the eye. The new MacBook Pro starts at just $1,499, but costs more than $5,000 when fully configured and buyers add nearly mandatory options.  Make sure you understand exactly how expensive the new MacBook Pro are if you stray from the entry-level models before you order or walk into an Apple store.
The MacBook Pro is clearly meant for consumers with deep pockets and professionals that can justify the expense. But even those people might have sticker shock.  Like just about every other computer company, Apple is promoting its new MacBook Pro's blazing speeds and improved performance. But for users to actually realize all those great performance claims on power-hungry apps, they're going to have to plunk down some serious cash on upgrades and think beyond the advertised $1,499, $1,799 and $2,399 starting prices.
Here's a breakdown of what you get (and don't get) at each price point and the total cost of all the extras you'll have to buy, regardless of which model you go with.
Above is an overview of Apple's new MacBook Pro features.
Read: 6 Reasons to Buy the New MacBook Pro and 3 Not To
$1,499 13-inch MacBook Pro

The $1,499 13-inch MacBook Pro is the stripped-down version that will certainly serve some users just fine. Those who don't care too much about the new Touch Bar interface, editing 4K video or running professional creative applications will be fine with it.  But it's tough to spend $1,499 on a machine that doesn't include the Touch Bar, which is this MacBook Pro generation's killer feature.
To keep costs down, Apple equips this MacBook Pro version with just two Thunderbolt 3 ports, which means there's just one port available for peripherals when using the other port to charge the computer. It uses a slower Intel Core i5 processor (2.0GHz) and more affordable graphics (Intel Iris Graphics 540) than the more expensive models.
Even this stripped down MacBook Pro has pricey upgrades available. An extra $300 can pay for an Intel Core i7 processor. The base 256GB drive can be upgraded to 512GB ($200) or 1TB ($600) at the time of purchase. Moving from 8GB to 16GB of memory adds $200, putting the maximum price of this starter machine at $2,399. Pretty much everyone spending that kind of money on a laptop is going to want all the bells and whistles, which brings us to what many will perceive as the real entry-level MacBook Pro (below).
$1,799 13-inch MacBook Pro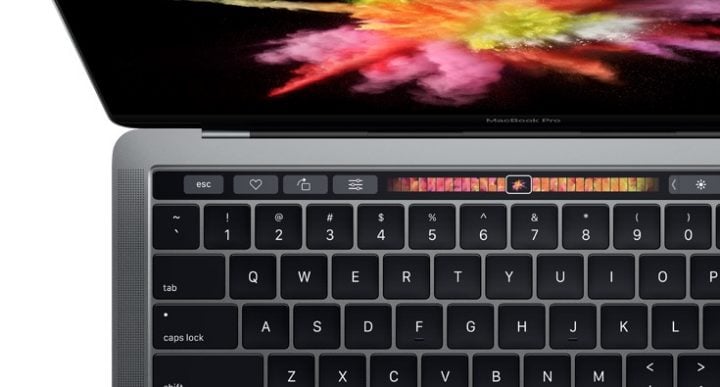 This is the most basic MacBook Pro with the Touch Bar interface. From what we can tell, it has plenty of muscle to handle all but the most demanding tasks in its base configuration. It has four Thunderbolt 3 ports, allowing for users to hook up more peripherals to it than the $1,499 model. The $,1799 model also has a faster processor than the cheaper model (2.9GHz Intel Core i5 vs 2.0GHz).  In other words, there's certainly $300 worth of value to woo people from buying the cheaper model to this model.
The one gotcha that may catch buyers off guard is that it only comes with a 256GB SSD. That's right, there's a chance that your iPhone 7 has as much storage capacity as a $1,799 MacBook Pro. The new MacBook Pro is a premium machine, but there's nothing premium about a 256GB SSD. If you plan on using the MacBook Pro to its potential, you're going to fill up this puny drive quickly.
Apple offers a RAM upgrade from 8GB to 16GB for $200. Those who want to maximize performance can upgrade from the base 2.9 GHz Intel Core i5 processor to faster options for $100 (3.1GHz) or $300 (3.3GHz). If you're going to pay for a MacBook Pro processor upgrade, notice that this model offers a far superior processor for the same $300 fee as on the cheaper $1,499 MacBook Pro. It's pricing strategy like this that will make someone change their mind from focusing on the $1,499 machine to the $1,799 machine if they plan to add options and upgrades.
$1,999 13-inch MacBook Pro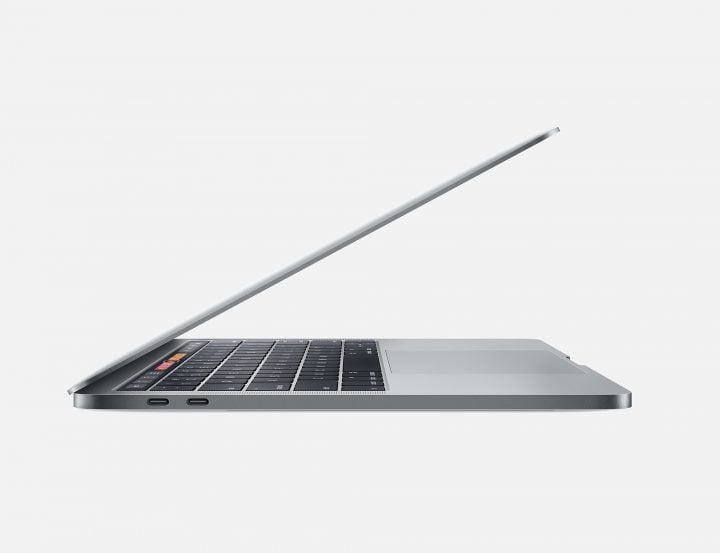 To upgrade from the paltry 256GB SSD in the $1,799 model, you'll have to upgrade to the $1,999 version of the new MacBook Pro. It is otherwise identical to the $1,799 model, except buyers can outfit the more expensive model with a 1TB SSD for $400, pushing the price up to $2,399. Adding on the 16GB of memory and faster 3.3GHz processor pushes the entry price all the way up to $2,899.
For $2,899 you'll have an extremely capable machine, save for the fact that it comes with Intel Iris graphics rather than the dedicated graphics only found in the 15-inch MacBook Pro models. While that won't matter to some users, those running professional video software and that plan on hooking up multiple high-end displays are going to need ATI graphics to do so.  There are certain physical limitations and even Apple can't cram a GPU into the 13-inch MacBook Pro's slim frame.
$2,399 15-inch MacBook Pro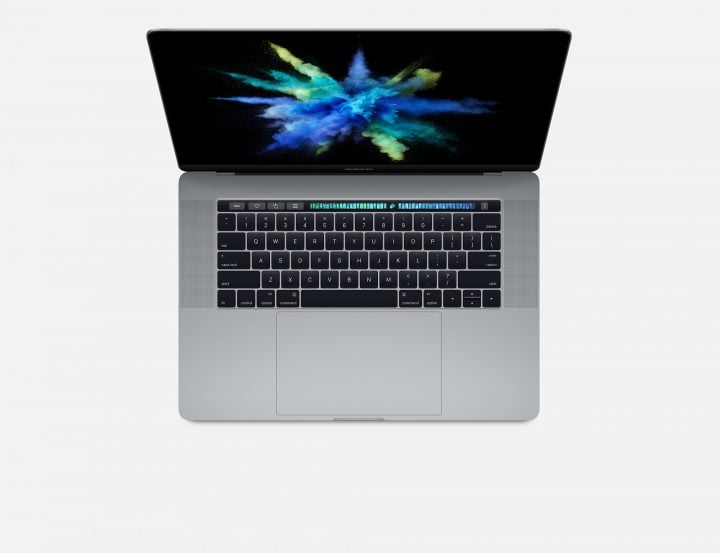 What do you get with the entry-level 15-inch MacBook Pro versus the $1,799 13-inch MacBook Pro? The 15-inch MacBook Pro comes with the larger display, 16GB of RAM, dedicated ATI Radeon Pro 450 graphics and a 2.6GHz quad-core processor.  It still comes with the underwhelming 256GB SSD.
Some people that are  used to 13-inch MacBooks may wander over to the new 15-inch MacBook Pro since it is much thinner and lighter than Apple's older 15-inch MacBook Pros. This is where we're going to see a lot of people buying too much computer for their needs just to get the larger display. Sure, nobody's forcing anyone to buy anything they don't want, but some people will really stretch their budgets or apply for Apple Financing to get the bigger display, even if they don't care about the faster graphics and processor.
If spending $1,799 on the 13-inch MacBook Pro model with not enough storage bothers you, then spending $2,399 on a MacBook Pro with just 256GB of storage is really going to burn. Upgrading  to 512GB costs $200, upgrading to 1TB is $600, and 2TB of storage is $1,400. Creative users that are going to use the applications and media libraries the way Apple demonstrates are going to need the 1TB or 2TB SSDs unless they plan on lugging around external drives.
Moving from the base 2.6GHz processor to a 2.9GHz processor costs $300. Those who want to max out the new MacBook Pro's graphics capabilities can opt for Radeon Pro 460 graphics for  another $200.
The total price if you take all the high-end options on this version of the 15-inch MacBook Pro? $4,299.
$2,799 15-inch MacBook Pro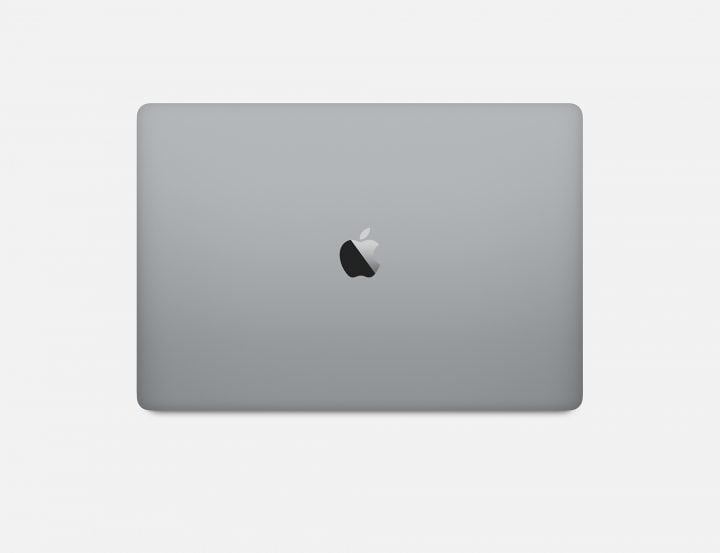 This is basically the same machine as the above $2,399 15-inch MacBook Pro except that it comes with 512GB of storage, a slightly faster 2.7GHz processor, and has a minor graphics bump (Radeon 455 vs Radeon 450). It has the same upgrade options as the cheaper model, which means you can max it out with a 2TB SSD and 2.9GHz processor for $4,299. 
But wait….There's More
Remember how we said that you could spend more than $5,000 on the new MacBook Pro? Well, that's because you need to spend some money to actually be able to attach anything to it.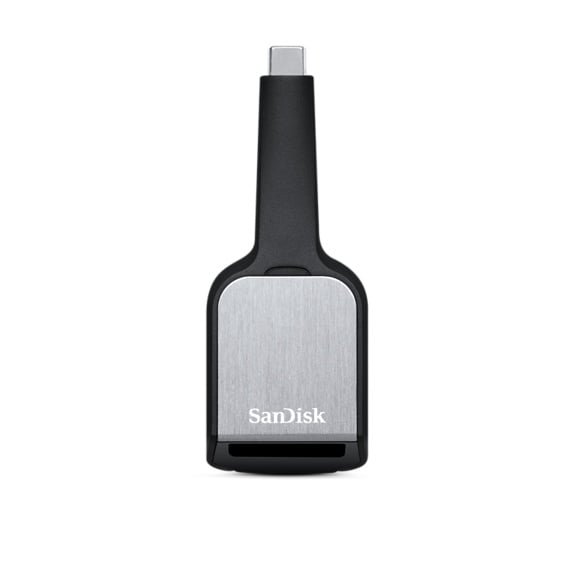 Do you have a camera with an SD card? Since there's no SD card slot, you're going to need to order a USB-C SD Card reader for $49.
Do you want to charge your iPhone with the MacBook Pro while on the go? Perhaps you'd like to transfer some photos and videos over to your MacBook Pro for editing? Then you're going to need to pay $25 for a USB-C to Lightning cable. And just to be safe, you might want to order more than one if you have multiple devices, such as an iPad or Apple's new external trackpad or keyboard.
Older MacBook Pros came with a power brick and an extension cable, allowing users to work from their MacBooks while plugging into a power outlet a few yards away. If you want the privilege of doing that with the new MacBook Pro, you're going to need to order a power adapter extension cable for $19.
A lot of MacBook Pro users already have Apple's Thunderbolt Displays or Thunderbolt hard drives. Apple's adapters to translate Thunderbolt 3 (the ports on the MacBook Pro) to Thunderbolt 2 (the standard on existing drives and displays) cost $49 each. 
Ethernet is still faster than wireless connections, which means some creative professionals need to plug into their networks to upload large files or access servers as quickly and reliably as possible. Apple's USB-C to Ethernet adapter costs $34.99.
Some users will be able to get away with just buying one or two of the above adapters, but some people would need all of them. If you buy one of each, you're going to spend $160 just on dongles for the new MacBook Pro. Some professional users will need two or more ThunderBolt adapters and Lightning to USB-C adapters. That pushes the dongle bill up to $235.
If you're spending thousands of dollars on a new MacBook Pro, you should probably opt for AppleCare, which extends the warranty from one year to three years. While it doesn't protect against accidental damage like AppleCare+ for iPhones and iPads, it is a wise investment. Apple Care for the new MacBook Pro costs $249 for the 13-inch models and $349 for the 15-inch models, regardless of which options you choose. The more expensive the MacBook Pro, the better value AppleCare is.  Tack AppleCare onto the 15-inch MacBook Pro and our grab-bag of dongles and we're up to $4,817. Apple also charges a $4 recycling fee, so the total before tax is $4,821. 
Taxes are a pretty major expense when it comes to machines in this price range. For example, tack on San Francisco's 8.75% sales tax, and that's another $421, bringing the grand total to $5,243.
There are plenty of professional artists, developers, engineers and video editors that will certainly get enough value out of the most expensive MacBook Pro configurations. Shaving time off of processor-intensive tasks or freeing them from the shackles of a desktop machine like the Mac Pro is worth the premium to highly paid professionals, but the high-end versions of the new MacBook Pro are simply too expensive to justify for those aspiring to those same professions.

As an Amazon Associate I earn from qualifying purchases.