New MacBook Pro Is Slighty Faster with CPU & RAM Boosts
Apple has officially released new MacBook Pros that come with slightly faster processors and more memory with no rise in price.
This marks the first MacBook Pro refresh since last year in October when Apple introduced all-new Intel Haswell processors in the MacBook Pro. This time around, though, the processors are seeing a slightly modest upgrade, with the entry-level 2.4GHz Intel Core i5 boosted to 2.6GHz. However, the machines now have double the memory as a standard option, with the entry-level MacBook Pros now having 8GB of RAM.
More specifically, the entry-level 13-inch Retina MacBook Pro now comes with a 2.6GHz Core i5 processor, 8GB of RAM and 128GB of flash storage for $1,299. This is the same price that it was before, so technically while it's the same price, it's a slightly better deal in the long run.
As for the 15-inch model, the entry-level machine now comes with a 2.2GHz Core i7 processor, 16GB of RAM and 256GB of flash storage. This also stays at the same price of $1,999. However, the upper-tier model has received a price drop of $100 and is now priced at $2,499 instead of $2,599.
The faster processors also means that build-to-order options have also increased. Users can put up to a 3.0GHz dual-core Core i7 processor in the 13-inch model, while the 15-incher can pack in up to a 2.8GHz quad-core Core i7 processor.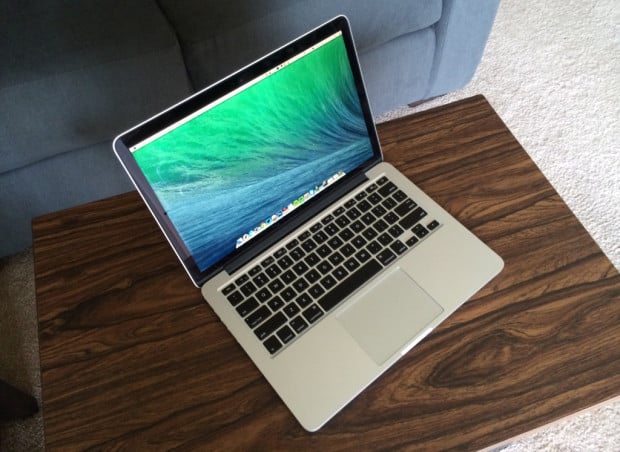 Aside from the modest upgrades made to the Retina MacBook Pros, the lonely 13-inch non-Retina MacBook Pro has received a price dropped down to $1099, from $1,199. This might seem like a really nice price cut, but it's important to note that the non-Retina MacBook Pro hasn't been updated since mid-2012. So while $1,099 may seem like a nice price all of a sudden, it's really not that great.
Read: MacBook Pro Retina Review: 6 Months In
The upgrade to the Retina MacBook Pros was rumored just days before it became official, and the updates come just a couple of months ahead of the official release of OS X Yosemite, which is Apple's next version of its desktop operating system.
If you're thinking about getting one of these Retina MacBook Pros, there no better time than right now, but just be aware that they cannot be upgraded, so make sure you get the specs that you want. The Retina MacBook Pros sport a thinner and lighter design that was first introduced in mid-2012, and this was when Apple started to solder the memory to the logic board and begin using solid-state storage (as opposed to a traditional hard drive).
Since the memory is soldered onto the logic board (meaning that it's a permanently fixed to the MacBook itself and is impossible to upgrade), you want to be absolutely sure that you get the amount of memory that will be enough over the next few years. You might think 4GB will be enough at first, but you may run into applications that eat up more than that in the future.
While the newer Retina MacBook Pros are technically not able to be upgradeable, the solid-state storage modules are removable, so with the right know-how and the right parts, you could upgrade the storage of a Retina MacBook Pro without having to take it to Apple. However, the process is far more difficult than replacing a traditional hard drive and it isn't for the faint of heart.
Of course, the older non-Retina MacBook Pro is still available to purchase, so if you want to be able upgrade your MacBook, perhaps getting the older model is the way to go, but just know that you'll be sacrificing processor performance and you won't have features like 802.11ac WiFi and USB 3.0.

As an Amazon Associate I earn from qualifying purchases.