New Madden NFL 15 Bundle Turns Xbox One Into a Sports Powerhouse
Until this morning, Microsoft had only released two Xbox One bundles and both of those focused on first-person shooting and racing games. Announced today, a new Xbox One aims to do what those bundles couldn't: get gamers who like sports games off the sidelines and into stores to purchase the Xbox One.
Microsoft not only confirmed the White Xbox One Sunset Overdrive bundle that leaked earlier today, it also announced a version of the Xbox One that will come with Madden NFL 15, the latest game in the venerable football franchise. Make no mistake; this Madden NFL 15 Xbox One bundle is designed to get those thinking about purchasing the game on the Xbox One.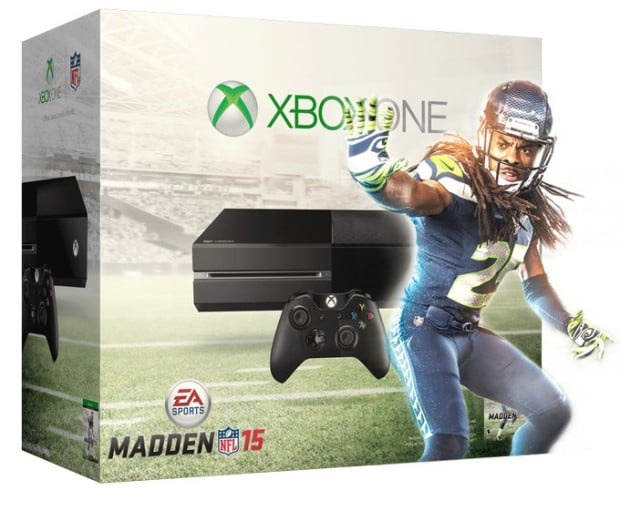 Microsoft isn't just including a copy of the game with bundle. Madden NFL 15 Xbox One bundle buyers will get a token worth three pro player packs from inside the game's store.  A standard black Xbox One controller, Xbox One console and Xbox One chat headset will also be included in the bundle. Of course, the power plug and a single HDMI cable will also be included in the Xbox One so that Madden NFL 15 Xbox One bundle buyers can get the console home and get gaming almost immediately.
The Madden NFL 15 Xbox One bundle will cost $399 when it debuts on August 26th. That's the same price as a standard edition Xbox One without a Kinect 2 sensor.  This Xbox One won't come in a special color or with special etchings. Instead, it'll match the Xbox Ones that are currently on store shelves.
We note that users will be able to play "almost immediately," because the bundle does come with a single catch. The copy of Madden NFL 15 coming in this Xbox One bundle won't be a physical disc. Instead, it'll be an alphanumeric code for a digital download of the game. On the plus, this means that users won't have to move back and forth between their Xbox One to put in a disc before playing the game. On the negative side this means users won't be able to take the copy of Madden NFL 15 they get with the bundle and resell it to a retailer like GameStop.
Microsoft says that the Madden NFL 15 will be available in select retail locations on launch day. So far its only confirmed that its own Microsoft Store retail outlets will offer the console. The bundle hasn't yet shown up on Amazon, for example.
Madden NFL 15 doesn't change a lot of the franchises' core mechanics. That being said, the things that are being changed should make for a very didn't experience. Madden NFL 15 will add a new camera angle so that those on defense can be more effective. New tools will grant players better crowd control to stop those on offense from sneaking past and scoring a crucial touchdown. There are also different sorts of tackles, adding a risk vs. reward system that wasn't there before.
Read: Madden NFL 15 Will Make You a Better Player
Ironically, Microsoft only confirmed the Madden NFL 15 Xbox One bundle on its Xbox Wire news site today. However, Polygon is reporting that Microsoft staff members confirmed the existence of a white Xbox One Sunset Overdrive bundle with it last week. Microsoft hasn't shared any information about pricing for the Xbox One Sunset Overdrive bundle.
Read: White Xbox One, Sunset Overdrive Bundle Leaks
Microsoft is hoping that sports lovers will exploit the bundle and use it as an opportunity to pick up the Xbox One going into the fall. Whether they'll be successful remains unclear. Unlike Sunset Overdrive, Madden NFL 15 isn't a console exclusive. There will also be versions of Madden NFL 15 for PS3, PS4 and Xbox 360.

This article may contain affiliate links. Click here for more details.