New Method of Note Taking Makes Tablet PCs Obsolete

I'm always looking for new methods of improving my productivity when I'm working on directing and/or producting a play. For the last several years I've been using Tablet PCs (first the Toshiba M200 and more recently the Lenovo Thinkpad X60 Tablet PC). Lately, I've been very pleased with the results while using the Asus R2H Ultra-Mobile PC for these note taking chores. The smaller form factor lets me move around the theatre with ease.
But for out latest show at Wayside Theatre (Stones in His Pockets) which opens tonight, I've found a new method of note taking that supplants the Tablet PC and the Ultra-Mobile PC. I can't believe how easy it was to take notes this way during rehearsal today. I know many of you think I'm crazy, and maybe I am.
Here's a picture of the solution I discovered today.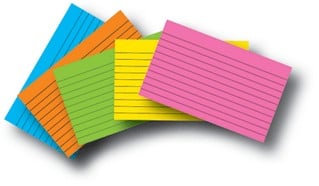 That's right. Index cards. Who'd a Thunk It?
Poissons D'Avril!

As an Amazon Associate I earn from qualifying purchases.