New Microsoft Courier Leak: Gesture and Pen Details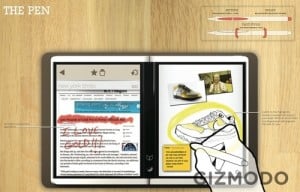 Gizmodo's secret informant, The Paperboy, has dropped what appears to be a full sales/user brochure of the Courier Tablet PC/UMPC-style device that Microsoft supposedly has in the works (though they can't comment even though it's obviously derived from the Codex prototype). It details the user interface to great extent, explaining gesture control and the advanced pen input.
Gestures: The basic finger gestures are exactly what you would expect. A one-finger tap-and-hold clips content, one-finger flicks scroll vertically and turn pages. Two-finger gestures open and close apps: Up or down opens an app, while a swipe offscreen closes it. Flicking toward the other screen with two fingers slides it across. Pinches come into play, for zooming out from the Journal to the Library. These gestures can and probably will change to some degree, possibly incorporating more fingers.

The Pen: The Courier pen is not a dumb stylus: There are two buttons, an eraser, and a twisting mechanism to switch to a different drawing mode. The top button is an undo button, so you won't have to flip it to erase something every time you screw up.
I've used several styles of Wacom pens and currently alternate between a Lenovo T41 pen and my stock Toshiba pen. The Lenovo has two side buttons that can work like the side buttons on the Courier pen (correction: the lower Courier button toggles between pen and marker; not an option on mine) but no eraser tip. The Toshiba has an eraser but only one side button. I would love a pen that combines both those features, plus a twist mechanism for mode switching. Quite frankly, I don't know why a pen like this doesn't already exist. More photos and details at Gizmodo.