New Moto G (2014) vs Moto G: 5 Key Differences
This week Motorola announced four brand new devices they've been working on, and one is the all-new Moto G for 2014. Rumors have been calling this the Moto G2, but they've simply decided to call it the Moto G again, or the new Moto G.
Now that the new phone is available, yes it's available already, buyers have lots of choices. Below we'll try to help prospective buyers make the right choice by comparing both budget phones.
Read: New Moto G Hands-On Video
Last year it all started with the Moto X, but shortly after Motorola announced the wallet-friendly Moto G. A smartphone with mid-range specs and an extremely low $179 price tag for those on a budget and emerging markets. It wasn't the best phone, and lacked 4G data speeds, but the new Moto G for 2014 is bigger and better in every way. Read on to see what you need to know about last years model, and the new and improved Moto G.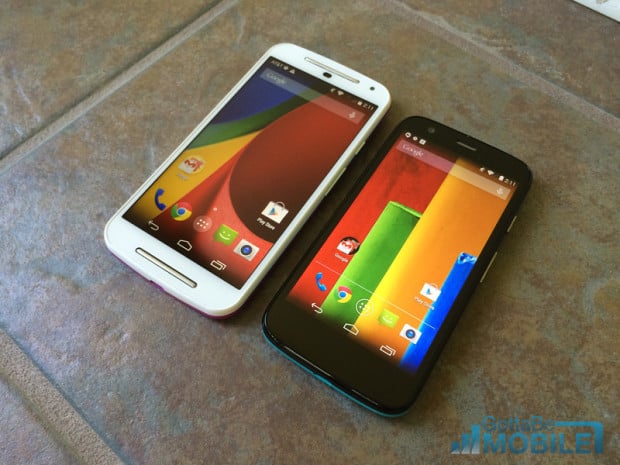 Since the original Moto G debuted back in 2013 many manufacturers have tried to copy the idea. Offering an all around decent phone for under $200. There's a few good options linked to below, but the new Moto G once again tops them all, and sets the benchmark for budget smartphones.
Read: Best Cheap Android Smartphones
The original Moto G had a pretty good set of specs to go along with the low price, which ended up making it the most popular and successful smartphone for Motorola to date. They sold millions overseas, and even though most major US carriers didn't offer it (regional and prepaid did instead) it's still pretty popular in the US too.
With a new Moto G here buyers will want to know what it has to offer, and if the original is still worth getting once we start to see discounts arrive as the model begins to be replaced. Read on for five key differences between these two phones.
Display
The original Moto G had a 4.5-inch 720p HD display and a powerful processor all for under $200, making it a rather enticing offer. The new one though, is bigger, faster, and better in every way, yet still hits the same important $179 price point.
Motorola's new Moto G for 2014 has been improved with a large 5-inch screen. It's only 720p so won't be as good as the Moto X, but still offers an excellent viewing experience and display given the price. In fact, we almost didn't even notice it was only 720p, and found it rather impressive to use.
The overall idea and general look of the new Moto G isn't much different from the original, and that's a good thing. They've made some changes aside from a bigger screen, which brings us to our next two key differences.
Design
The design remains largely the same as the original, right down to the removable and customizable backplates or battery doors with an array of color options. However, the design is more durable, bigger of course with a 5-inch screen, but also incorporates a better camera and front facing speakers. It isn't as loud as the HTC One M8, but these speakers sound great given the device is only $179.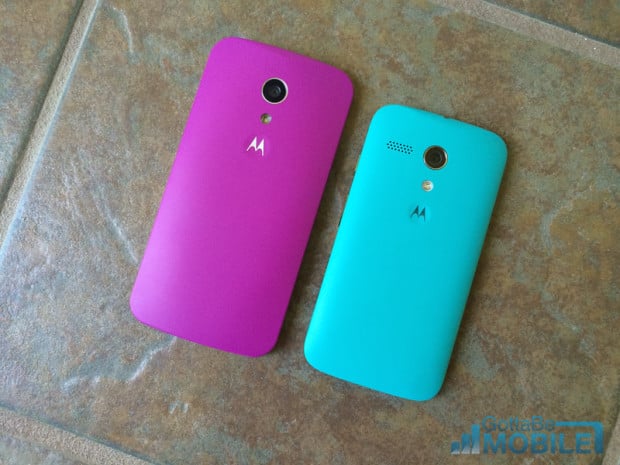 The phone still comes in white or black with a pretty plain vanilla front, then the back houses the camera, flash, and a body with subtle curves making it easy to carry and comfortable to hold. With the original being so successful there was no reason to change the design, so they didn't. Motorola simply made it bigger and better, while keeping the winning combination in tact. Even though the phone is 11mm thick, it still seems sleek and svelte. To say the least.
We recommended the original Moto G for the few months it was available in 2013 and all year so far in 2014, but it's been replaced with something even better. You can't beat the improvements and new design of the 2014 Moto G.
Specs
So what makes the new Moto G better as we mentioned above? Aside from the screen? The specs. Being able to deliver a quality and well-rounded smartphone for under $200 isn't an easy task, but Motorola's done it again. Specs aren't everything, especially for budget minded buyers, but the Moto G still impresses even though it doesn't necessarily need to.
New Moto G Specs
5-inch 1280 x 720p HD Display
1.2 GHz Quad-core Snapdragon 400 processor
1GB RAM
8/16GB storage with micro-SD support
Android 4.4 KitKat
4G HSPA+ (no 4G LTE sadly)
8 Megapixel rear and 1.3 front cameras
Dual front-facing speakers
2,070 mAh battery
Moto G (2013) Specs
4.5-inch 720p HD Display
1.2 GHz Quad-core Snapdragon 400 processor
1GB RAM
8/16 GB storage (newer model arrived in 2014 with micro-SD & 4G LTE for $229)
Android 4.4 KitKat
3G only (no 4G HPSA+ or LTE)
5 Megapixel rear and 1.3 front cameras
2,070 mAh battery
As you can see from the list above these are actually very similar smartphones. In fact, all Motorola has done is added the same internals to a slightly bigger device, added a better camera, and integrated front facing speakers.
That being said, those were our only complaints with the original, and we mean it. Battery life wasn't the best, which could be a problem considering the new model has a bigger screen and the same battery, but we'll have to wait and see if some optimization has been included with the new release.
Camera
Those considering a budget smartphone this fall will likely want one with a good camera. As we mentioned above, the camera was probably the weakest link with the original Moto G. This year though, they've improved the camera from 5 megapixels to 8. It still wasn't the best from our hands-on experience thus far, but is much improved. If you want a decent camera, the new Moto G is your best route at this price point.
The same design is on back with the camera and flash being located just under it. Thankfully the sensor has been improved to 8 megapixels, and likely will produce better photos and more accurate lighting and detail.
Price
We can't forget the price. This is essentially the most important aspect of the phone. The Moto G debuted in November for $179 but was offered for $100 from many carriers, like Verizon, and eventually a better model with LTE and a micro-SD slot arrived for $229.
The same all-important $179 price tag is what Motorola is asking for the new Moto G, which is actually available right now from Motorola.com. It comes in white or black, but 8 different custom color backs are available as well, for $14.95. This is the same approach Motorola took last year that worked so well, and we'd be surprised to see anyone get the old model over the new 2014 edition.
Most likely the original Moto G will see a permanent price drop, if not be discontinued altogether, but we'll have to wait and see. For now though, if you're looking for a budget smartphone getting the new Moto G for $179 without a contract is quite the bargain.