New Moto X 2014 vs LG G2: What Buyers Need to Know
Earlier this month Motorola announced four brand new devices they've been working on, and one is the all-new Moto X for 2014. Previously rumored as the Moto X+1 or Moto X2, they've simply decided to call it the Moto X again. Buyers have a tough choice between all the Android phones released this year, but Moto also has to fight off the competition from last year too.
The new Moto X for 2014 is bigger, better, faster, and more customizable, but that size still barely matches some devices from 2013. To be specific we're talking about the LG G2 that has a similar 5.2-inch display, and now that it's a year old, a similar wallet-friendly price tag.
Read: New Moto X Hands-On
When Motorola abandoned the specs and big-screen race in 2013 with the original Moto X in favor of customization it was a risky move, one that was somewhat successful. However, in 2014 the new Moto X is better in every way, offers everything the original did and more, but both are still great devices. Here we compare the new Moto X to a similar offering in the LG G2 from 2013.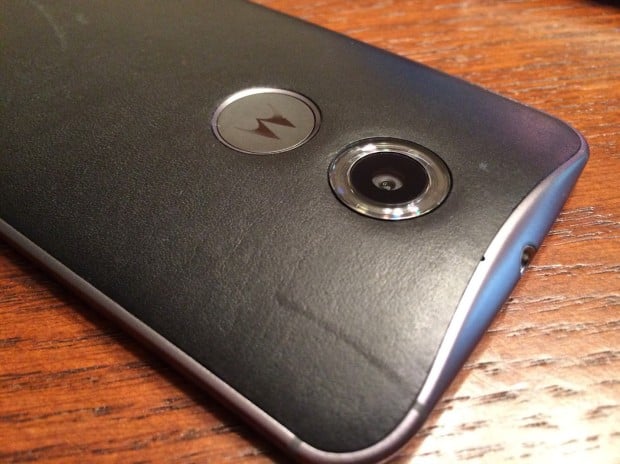 There was a lot to like about the original Moto X, but there's even more to love about its successor. All the customization is included, and they've improved the device across the board.
With the Samsung Galaxy S5, LG G3, Note 4 coming soon and many other devices all set to be available in September, buyers have tons of choices. Motorola's new phone went up for sale earlier this month and pre-orders are still slowly arriving to buyers, and it went up for sale from Verizon Wireless this afternoon.
While we can't say what is best, or know what each users wants or needs are, we can help explain what is has to offer and hopefully help buyers make a better decision. Now that Verizon has the new Moto X, here's how it compares to the LG G2 from 2013.
Display
The original Moto X dropped the specs race we've seen as of late and went with a more compact design and customization instead. As a result users got a small 4.7-inch 720p HD display (when others were going 1080p) but still made it a powerful device. It was the first "Mini" Android smartphone that was impressive on paper.
This year they've ditched the small screen, but managed to keep the overall size not much bigger by offering sleek bezels and an aluminum ring around the new 5.2-inch 1920 x 1080p full HD display. It's an AMOLED panel, so colors are vibrant and saturation is exceptional. Our initial hands-on left us impressed, and sitting next to the original you can certainly see the difference in screen size and quality.
However, that bigger 5.2-inch 1080p screen this year matches up extremely well to another device of the same size. The LG G2 has a 5.2-inch bezel-free 1080p full HD screen too, and now that it's a year old the price has been dropped making it essentially the same price as the Moto X. It's also free from most carriers, so this is certainly a phone you may want to consider before buying the new Moto X.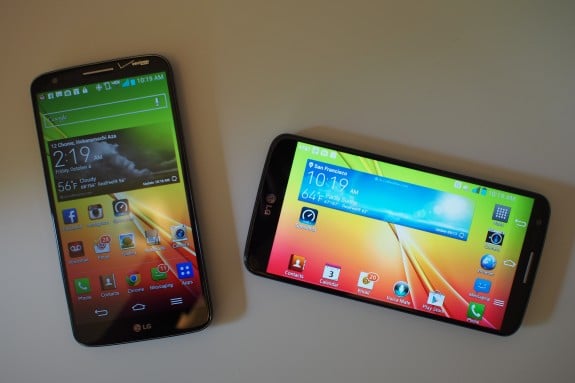 The LG G2 screen was vibrant and extremely crisp, but so far we'd have to say the colors are viewing angles on Motorola's new X are slightly better. Not a big deal, but worth mentioning.
Design
The design is an important one for any smartphone buyer, and the Moto X has been redesigned slightly while looking similar to last years model. The LG G2 though, is unlike any other phone and was built to have a bezel-free front with nearly nothing but a huge display, and the buttons are on the back. It was an odd approach that worked out well, but they don't offer the customization that Moto does.
There's a few big changes on both the front and the back. Starting with the front the screen is bigger, obviously, but you'll also notice those large speaker grills and some weird dots on bottom. Those are actually IR sensors to know when you're near the phone for hands-free usage and voice controls.
The new Moto X has a single front facing speaker, a nice aluminum frame around the entire device, and is finished off in back with 18 different color choices, custom wood backs, or four leather options. The entire design was built around the idea of these being customizable. LG has no such things, but its design had a purpose too.
The video above should tell you everything you need to know about the new Moto X, and check out our LG G2 review from last year in the link below for more coverage on it.
Read: LG G2 Review
The LG G2 is made entirely of plastic. There's no aluminum sides or wood backs, but it's a durable and lightweight device that's extremely comfortable to use and hold. We're not sure how well the leather back on some Moto X units will handle wear and tear after a year of use, but our own LG G2 is still looking good as new. That's also something buyers may want to think about before getting a wood or leather back.
Specs
Obviously trying to debate about dual or quad-cores, 2 or 3GB of RAM, and other things doesn't really matter, as each user has different needs. That being said, many buyers want to know the cold hard numbers, specs, and features, so below is a rundown of what both of these extremely capable smartphones have to offer.
Moto X 2014 Specs
5.2-inch 1080P Display
2.5 GHz Snapdragon 801 Quad-core processor
2GB of RAM
16GB and 32GB storage options
2,300mAh battery
13MP rear facing camera w/ 4k video, 2MP front camera
Dual LED Ring Flash
Android 4.4.4 KitKat
Over 25 customizable back options
140.8 x 72.4 x 10 mm and 144 grams
LG G2 Specs
5.2-inch 1920 x 1080p Full HD Display
2.3 GHz Snapdragon 800 quad-core processor with 2GB of RAM
32GB of storage (no micro-SD)
13 megapixel camera with OIS, 2.1 front shooter
Plastic design, buttons on the rear
IR Blaster for remote control
Android 4.4 KitKat
3,000 mAh battery
138.5 x 70.9 x 8.9 mm and 143 grams
Take a look at those numbers. These phones offer nearly the same features in regards to screen size, quad-core processors, storage, cameras (although of different quality) and they're even similarly sized. The LG G2 is smaller in all categories by a hair too, all while delivering a much bigger battery.
It's hard to argue with that on paper, even if the LG G2 is a year old at this point.
Price
Before we talk about customization we want to mention price. This is one of the key selling points for Motorola, and a big part of any buyers decision. The LG G2 was an expensive phone last year, $199 on contract and $599 outright from most carriers, but it's now a year old. Prices have been lowered and it now competes head-to-head with Motorola across the board.
We'll just let the chart below explain the price.
Moto X 16GB – $99 on contract
Moto X 32GB – $149 on contract
Moto X 16GB – $499 outright
LG G2 32GB – Free on contract (from most US carriers)
LG G2 32GB – $499 outright (Verizon
LG G2 32GB – $438 from T-Mobile
These days most carriers are pushing the brand new and extremely impressive LG G3 instead, but you can still find the LG G2 from 2013 in stock for an excellent price, and likely free on contract.
Compare that to the asking price of the Moto X, and this could be a tough choice buyers will want to think about. Yes the Moto X in newer, and will probably get better support and updates (for longer) but these are both very similar under the hood and have a lot to offer.
Customization
The Moto X was the most customizable smartphone ever released, and that trend will continue with the new X. MotoMaker.com now has 25 different options for buyers looking to get the new Moto X. Delivering seventeen different colors of plastic back panels to choose between, as well as the same four real wood options from last year. Those being bamboo, teak, walnut, and ebony. New to the Moto X for 2014 though, is four leathers – natural, cognac, black, and navy – from The Horween Leather Company in Chicago.
We enjoyed the Moto X last year with Walnut wood, but must confess that we're huge fans of the new leather options. They're soft, smooth, comfortable, and just look and feel great.
We do have some concerns over the leather handling wear and tear over a 8-12 month period as some users are quite rough on their smartphones, but we'll have to wait and see. Our unit is resisting scratches quite well, and seems to be very durable, but each user is different. Who knows how leather will hold up to the test of time. That being said, it has been used in houses and cars for years, so why not a smartphone. Right?
Considering this is genuine leather there's bound to be a few imperfections, which is what gives it that natural and unique look. Our black model has a small indented type area to the left of the camera, just barely, but it gives it character. If you have OCD you may want to pass on leather, but we're big fans so far.
There are no customization options for the LG G2, but you could always put it in a colorful case.
Final Thoughts
This new Moto Xis pretty awesome, but so was the LG G2 last year. In fact it still is, that's why Verizon still offers it and has it for a great price. Motorola has an excellent all-around package, tons of customization unlike any other manufacturer on the planet, a great device, yet still deliver on a good price for consumers.
It's hard to recommend anyone buy a year old phone over something that was released on a few weeks ago, but in the end it's all about you and what you need. Not everyone needs the latest and greatest when last year phones are still excellent options and now available at a discount. This can be said about the Galaxy S4, the HTC One, and other phones from 2013 as well, as they all compare nicely to the new Moto X 2014 edition.

As an Amazon Associate I earn from qualifying purchases.