New Moto X Android 4.4.4 KitKat Updates Arrive
The Moto X Android 4.4.4 KitKat update is beginning to pickup steam in the United States, with two more carriers getting the latest Google release this week.  This update arrived for multiple users around the globe last month, and now we're seeing it emerge from carriers in the US. The Verizon Moto X received Android 4.4.4 KitKat first, and now AT&T and Sprint are joining in on the fun.
A few weeks back we heard that the Verizon Moto X would be among the first Moto X variants in the US to receive the latest Android update released by Google, and the very next week it arrived. That was quickly followed by rumors that AT&T was next, and they were right, as the AT&T Moto X Android 4.4.4 KitKat update is rolling out today.
Read: Moto X & DROID Ultra Android 4.4.4 KitKat Breakdown
Google had an important month in June issuing both Android 4.4.3 and 4.4.4 KitKat updates, which put many manufacturers behind in their update plans. Motorola even skipped Android 4.4.3 KitKat for a few carriers (excluding Sprint) and went right to Android 4.4.4 KitKat, but that's not all they have going on.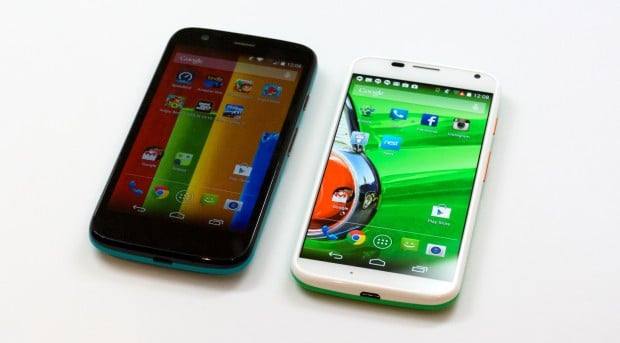 Today is a busy day for Motorola all around. The company announced that September 4th is the day they'll unveil the new Moto X2, the Moto G2, and release the Moto 360 smartwatch. If that wasn't good news on its own, we can now confirm the Moto X on two carriers are getting Android 4.4.4 KitKat updates today.
After talks of what the manufacturer calls "soak tests" which is a final testing phase before a public release, the AT&T Moto X Android 4.4.4 KitKat update started to arrive for a limited few. However, this afternoon the full nationwide rollout is available starting today, which was confirmed by Motorola.
Those with an AT&T Moto X can expect the Android 4.4.4 KitKat update to arrive starting today, or over the course of the next week or two. Usually it hits most phones within the first week, but can take upwards of two weeks in some cases. You can also head into settings > about phone > check for updates to see if it's ready for your handset.
That isn't all that was mentioned today either. The updated Moto page linked to above suggests the Sprint, US Cellular, and other regional carriers will get the update in the coming days or weeks as well. There were no additional details regarding the T-Mobile Moto X Android 4.4.4 KitKat update.
Read: Moto X Android L Update Confirmed
Then, speaking of soak tests for software. Android Police has confirmed the Sprint Moto X Android 4.4.4 KitKat update started today, which means the final testing for that model will conclude before the end of the week. Usually soak tests take a few days, but can be over a week in some cases. From there we can expect the Motorola support pages and Sprint to issue a statement as the update arrives for all owners.
So what's new with Android 4.4.4 KitKat for the Moto X? Not much. Aside from tons of small changes to Android as a whole by Google, including security patches, there isn't much to see. This is an important maintenance update though, so it's worth checking out.
That being said, users can expect a few small improvements to the device. Motorola has improved and tweaked the dialer application, fixed some problems and quality of the camera, and added a pause live video recording button. Video and images should have better quality from the camera as well, so that's a welcomed change to an already excellent smartphone. All of this is detailed in the image above.
Again this is the Android 4.4.4 KitKat update for the AT&T Moto X, and the Sprint version is being tested and should follow in the coming days or early next week.

This article may contain affiliate links. Click here for more details.