New Moto X Deal Arrives as Release Begins
As expected, this morning Motorola started taking pre-orders for the brand new Moto X smartphone announced earlier this month. The new Moto X arrives as an improved model over the original from 2013, loaded with better features, more customization, and now we have a quick Moto X deal worth sharing for prospective buyers.
Last year the Moto X arrived and surprised many thanks to a nearly stock version of the latest Android release from Google, and an array of customization features all free for buyers. This year the same phone is back, only it's bigger and better, and they've even added some more customization options too.
Read: New Moto X Hands-on
The Moto X (2014) was joined by a new Moto G and the Moto 360 smartwatch, all of which are available today for purchase. However, the Moto X is only a pre-order for AT&T, and it won't start shipping until later this month. The other two are available today. If you're interested in the new Moto X read on for everything it has to offer, and a new deal that will get you $50 off the latest flagship smartphone from Motorola.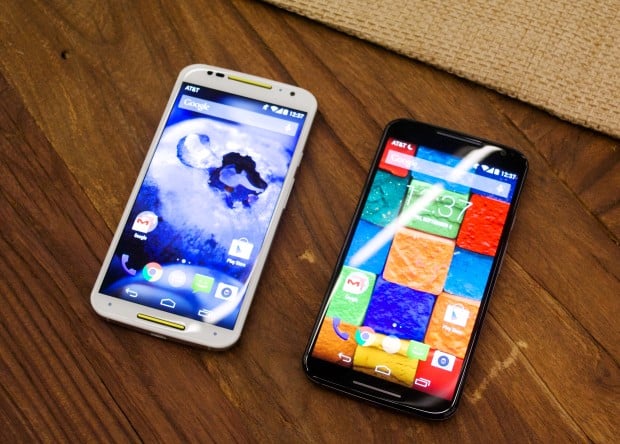 The new Moto X plans to compete with the just announced iPhone 6, the Galaxy S5, and even devices like the HTC One M8 and LG G3. It has a lot to offer, and does so at a price lower than the competition.
Motorola's new Moto X is $499 outright, or $99 with a new 2-year contract from AT&T. The same pricing is expected to be available from Verizon, and we've also confirmed Sprint and US Cellular will carry the handset. T-Mobile didn't offer the Moto X last year, but the unlocked model "Moto X Pure edition for 2014" works great with AT&T and T-Mobile both.
So how can you save some money? This week Motorola announced pre-order details, but also briefly mentioned that as a "back to school sale" all students, teachers, or any alumni that want to take part in buying the new Moto X smartphone.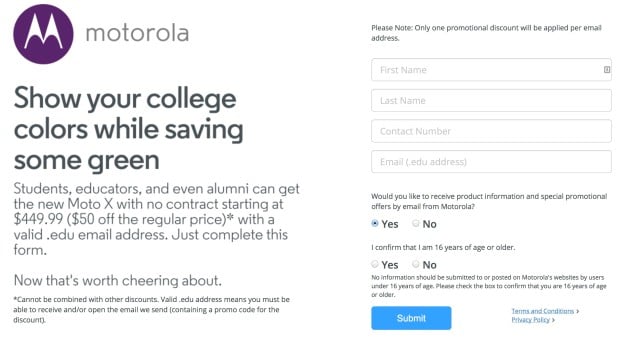 As shown above, before you purchase the new Moto X smartphone you'll need to head to this page and register with a valid .edu email address. Once completed, you'll receive a $50 off code (one per email) that you can use while paying for the smartphone. This makes the already impressive and low-priced $499 Moto X just $449.
This Moto X deal cannot be combined with any other deals, and you'll need to be able to access the .edu email address to receive your promotion code to save $50 off the Moto X smartphone.
Read: Moto X Release in the US: What You Need to Know
Currently the Moto X for 2014 is available right now for pre-order on Motorola.com, and can also be ordered through AT&T for the time being. We've yet to hear any official release date details from Verizon, Sprint, or US Cellular, but all have confirmed it should arrive later this month.
Rumors suggest the Verizon Moto X will launch on the 17th, tomorrow, but others have reported September 25th is the official Verizon Moto X release date.
If you're looking to snag the new Moto X but use Verizon or a few of these other carriers, you can still sign up with the valid .edu email now and have your promo code ready, then just apple it once the device is available from your carrier of choice. Of course this only works with Motorola.com, but get it now before the deal is gone. We've seen this in the past from Motorola, but it doesn't last forever so act now.
We'll be sure to update the moment we have additional details regarding a release in the US on other carriers. For now, it's only available unlocked, or from AT&T. It's also worth noting that if you used your .edu email for the promotion on the original Moto X from last year, you're not eligible this time around. Only one per email.

This article may contain affiliate links. Click here for more details.