New Moto X Hands On Video (Moto X+1)
The new Moto X is an attractive new smartphone from Motorola that delivers key upgrades to the main issues we found with the original Moto X, living up to the rumored name of Moto X+1.
After spending hours using the new Moto X as my new primary phone I am able to offer a hands on that goes a little more in depth than a quick demo at the event.
You can watch the new Moto X hands on video to see a highlight of the new Moto X features that Motorola added to this device, and read on to learn more about the upgrades that help the device rumored as the Moto X+1 to compete with upcoming flagships like the iPhone 6 and with the Samsung Galaxy S5.
The new Moto X is $99 on contract and we are waiting on carriers to announce the specific new Moto X release date, but we do know it is in September. You can also buy an unlocked model for $499 without a contract.
One of the things you'll notice right off the bat is the new metal frame that feels significantly better than the original Moto X's plastic. The back of the new Moto X is made of a plastic material on the base models, but you can also purchase it with a wood back or a leather back.
I really like the combination of metal and leather on my new Moto X review unit, but after half a day of use there are already some marks on the leather back. I'm hoping these will wear into a nice distressed look, but it is too early to tell.
The new Moto X runs pure Android which is a refreshing change for flagship devices not under the Nexus brand. The voice control and special features that Motorola adds to the new Moto X come from apps that are updated through Google Play. This means faster updates for features and faster overall Android updates. Expect a fairly quick upgrade to Android L when Google finally makes the new version of Android official.
New Moto X Hands On Video (Moto X+1)
The new Moto X hands on video below walks you through the new features like a larger 1080P display, new camera features, the very useful and fun voice control and other key parts of the device we assumed would be called the Moto X+1.
Motorola includes a large 5.2-inch 1080P display. This is an important upgrade from the original that only offered a 720P display. This new display is very bright and it very good from multiple angles. The 5.2-inch display makes this device larger but the curves and the design make one handed use possible for me with a little adjustment in grip.
All of the new back materials look nice, accented by an aluminum metal frame that doubles as the antenna. Even if you don't splurge on the $25 leather or wood back the new Moto X design is certainly a step up for Motorola smartphones. You can pick from 25 color options, a white or black front and 10 accent colors. You can also engrave the back of the device. To do this you need to order with the MotoMaker, which now offers a better look at the final product and still promises one week delivery of your custom Moto X.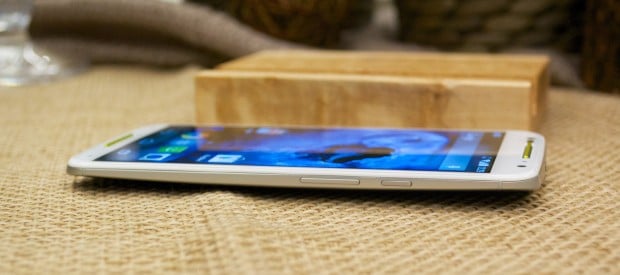 Call quality on the new Moto X is amazing. After using it to make a 30 minute call in downtown Chicago we found the call very clear on both ends with a realistic sound. It sounds much better than on the iPhone 5s in the same neighborhood.
Motorola delivers a camera upgrade to a 13MP sensor, a jump from the 10MP on the original. I'm still trying to figure out if this is a massive improvement, but after a short period of time using the camera I enjoy the software feature that can take a better picture by capturing a photo before I press the shutter. There is also a new way to share photos with a highlight reel where you can customize the length, music and if you want the photos includes.
The flash is updated with an interesting dual LED ring flash that we'll be testing more in the coming weeks. The rear camera also includes support for 4k video recording.
By swiping my hand over the new Moto X display three IR sensors detect the movement and turn the display on to show me the three most recent notifications. This is much better than a flashing LED and I can tap and hold to see more about a notification. The gestures can also snooze an alarm or dismiss a call.
Voice control returns with more options, including the ability to pick a special keyword to wake up the device. You can pick almost any word you want for a fun and personal experience. You can say goodnight to the phone to turn on Sleep mode which mutes alerts and good morning to take it out of Sleep mode and hear your first appointment. Voice control also works with select third-party apps so you can send a Whatsapp message, post to Facebook or search YouTube for videos.
I'm looking forward to testing the Moto Assist feature more, which senses when you are driving or in a meeting to silence the phone or activate a special driving mode.

As an Amazon Associate I earn from qualifying purchases.