New Moto X Release Date Confirmed
Just as expected, the new Moto X is now available for pre-order through Motorola's Moto Maker website. For months reports and rumors have speculated over the actual Moto X release date, but now we have the official details right from the order page for those interested.
The new Moto X has been highly anticipated thanks to the improved specs, free customization features, and new leather backs that offer a truly one-of-a-kind smartphone. And while we don't know exactly when all carriers will finally offer it, we now have a solid Moto X release date.
Read: Moto X Release in the US: What You Need to Know
This morning the Moto X went up for pre-order on Motorola.com, and it is also available as we speak from AT&T as well. Buyers have been waiting to know when they'll be able to get one, and we can now happily report that they should start arriving on doorsteps as early as September 24rd. That's in a little over one week.
The new Moto X was announced earlier this month, and Motorola confirmed a global release would arrive on all carriers before the end of the month. The new smartphone is $499 outright, or $99 with a new 2-year contract from AT&T, and likely the same from Verizon Wireless. For now those are the only two that will offer MotoMaker customization, but we've also heard Sprint and US Cellular will offer the handset before the end of the month.
Read: New Moto X Hands-On Video
With September halfway over and quickly coming to a close, buyers have grown impatient with the lack of details. That said, here's what we've gathered based on the shipping estimates from AT&T.com, Motorola's website, and from buyers who've been kind enough to send in tips regarding the Moto X release date.
New Moto X Release Date
Currently users only have a choice of the AT&T Moto X, or the new Moto X "Pure Edition" which offers a stock experience without carrier bloatware, unlocked for both AT&T and T-Mobile (or any GSM carrier) and updates direct from Motorola, instead of from carriers.
Shipping estimates for customized Pure Edition new Moto X are around 10 days from the date purchased. Meaning they'll ship on September 26th if ordered today, and arrive based on the shipping method of choice. Default is 2-day shipping. Customized Moto X buyers getting a phone on AT&T can expect their devices to arrive in the same time. Motorola.com states custom orders will be completed and shipped within 10 days. However, this could increase to longer times if demand is high.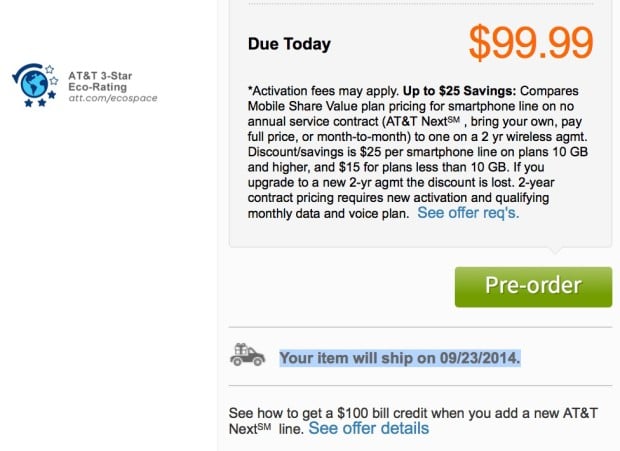 Then of course we have AT&T, who is taking orders themselves right on their own website. According to AT&T.com the new Moto X will ship on September 23rd, not by, but on that date. Meaning it will arrive on the 24th if you choose one-day shipping, or later based on your preference. Above is a picture showing the current shipping estimate promising a ship date of September 23rd from AT&T.
Other Carriers
At the Moto X launch event earlier this month the company had both AT&T and Verizon Moto X units around the event, and eventually gave them out to all attendees for free. Motorola also confirmed AT&T and Verizon were up first, and are currently the only two carriers who've agreed to offer MotoMaker.com customization. Last year all major carriers (but T-Mobile) were on board, including US Cellular and Republic Wireless.
A few hints have suggested Verizon Moto X variants will be available on September 17th, while other rumors claim September 25th could be the official Verizon Moto X release date. With no announcement yet from Verizon, it's likely that buyers will need to wait a few more days. Hopefully it arrives before the end of the month as promised.
Again, the all-new Moto X for 2014 is available for pre-order now on Motorola.com, from AT&T, and there's even a $50 Moto X deal available already. Get it now before they're all gone.