New Moto X Pre-Order Details Arrive
Motorola has finally confirmed the pre-order details for the new Moto X, its flagship smartphone meant to compete head to head with the Apple's iPhone 6 and the Samsung Galaxy S5.
The company revealed the Moto X pre-order details in a post on its news blog, this past Sunday. That's roughly a week after it'd originally revealed the Moto X to the world.
Just as it was last year, the new Moto X pre-order details aren't exactly great news for everyone who has plans to pick up the device. Pre-orders for the new Moto X for AT&T will kick off Tuesday, September 16th at 11 a.m. Central Time, but versions of the phone for other carriers won't be available. So for example, T-Mobile or Verizon users won't be able to place a pre-order for the new Moto X for those carriers.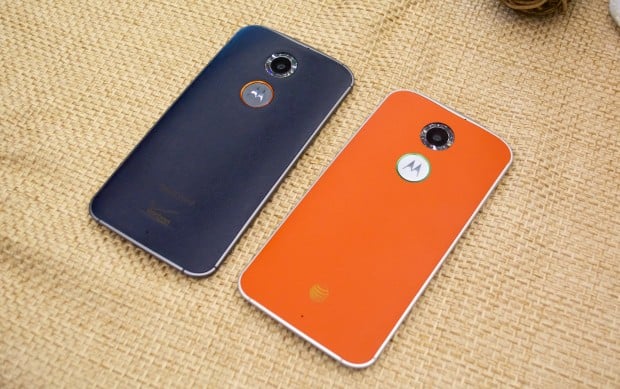 Clearly, the new Moto X not being available for pre-order for everyone isn't great news. However, Motorola is making up for that with the release of the new Moto X Pure Edition. The Pure Edition of the new Moto X will be unlocked and also include an unlocked bootloader. In short, users will be able to put it on either T-Mobile or AT&T without having to sign two-year contract. In that way, the Moto X Pure Edition is similar to the Google Edition phones that Google sells through the Google Play Store. The Moto X Pure Edition will cost $499. $99 and a two-year service agreement will be how users get the AT&T new Moto X.
Besides the new Moto X pre-order details, Motorola already revealed release details for a few of the other products it's talked publicly earlier this month. The Moto Hint, Motorola's new small wireless Bluetooth headset that adds convenient voice controls for interacting with a Motorola phone will be available on Tuesday as well. The Moto Hint will cost $149.99. The Motorola Turbo Charger that'll get the new Moto X powered up in 15 minutes will also be available beginning September 16th. It'll cost $34.99.
When the first version of the Moto X debuted last year it became one of the only mass market flagship smartphones that users could customize. The new Moto X continues that tradition with new leather backs and many of the same color options. As such, naturally, new Moto X buyers are wondering if they'll be able to customize the device they pre-order through Moto Maker on Tuesday. Motorola has confirmed that users will be able to customize the new Moto X through Moto Maker on Tuesday, but hasn't shared much beyond that. Customizations will include choosing different color front-faces in addition to different backing just like last year's version.
First-generation Moto X buyers who made their purchase through Moto Maker were also able to customize their phone's greeting, included wallpaper, choose between a black or white wall charger and sign into the phone early with their Google Account. Whether that'll all be true for the new Moto X remains unclear.
Read: New Moto X Release Date, Price & Features
Last year's Moto X used less than cutting edge internals, but offered so many nice-to-have features that it quickly became a fan favorite. The new Moto X is aggressively modern.  A 5.2-inch AMOLED display dominates the front face of the phone along with a single front-facing speaker. Inside is a 2.5Ghz Snapdragon 801 processor that completely outclasses the old Moto X.  A front-facing camera is also included, but it's the rear-facing 13 megapixel camera that steals the show. The flash is embedded in a ring shape around the camera sensor.
Motorola says that users who prefer not to pay full price for the new Moto X Pure Edition and aren't AT&T subscribers should expect more availability news from their carrier soon.

This article may contain affiliate links. Click here for more details.