New Moto X Release Date Details Emerge
As the Moto X release date approaches, we've received more and more news regarding the release with pre-order pages going live, but many questions still remain regarding the smartphones launch. However, new details for those on Verizon have finally emerged.
When Motorola took the stage on September 4th and announced the new Moto X, the Moto G for 2014, and the Moto 360 release date, they only had two carriers to talk about. Confirming both Verizon and AT&T would offer the Moto X. When the phone went up for pre-order earlier this week it was only for AT&T, and Verizon was no where to be found.
Read: Moto X Release Nears as Ads Highlight Key Features
The original Moto X from 2013 was released on AT&T, Verizon, Sprint, US Cellular, and other regional carriers, and many expected the same in 2014. Motorola confirmed all carriers who would be offering the phone would launch before the end of September, and a new leak reportedly confirms exactly that.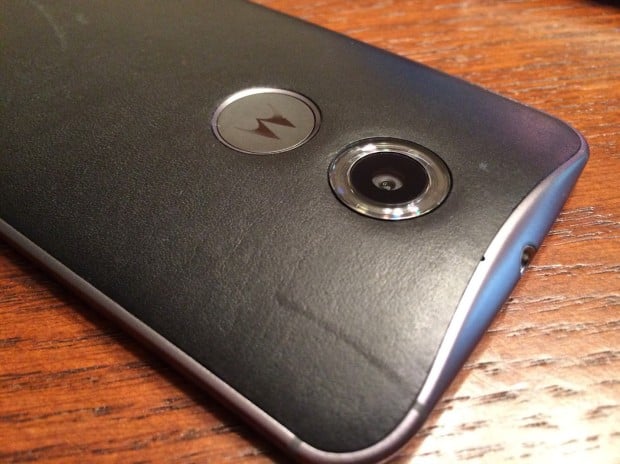 Today a reported screenshot from Verizon's inventory system has outed the official release date for the Verizon Moto X smartphone. Previously all we heard was "before the end of the month" and earlier rumors claimed September 25th would be the launch date. That being said, if the image linked to above is accurate Verizon will offer the new phone on the 26th, and offer come customization options for free.
This week Motorola has officially confirmed what many Motorola fans on Sprint were fearing. The new Moto X will not be coming to the Sprint network. This is an unexpected turn regarding the Moto X release in the US, and now buyers will have to look else where if they had their heart set on the impressive new smartphone. One area they may look is Verizon, who according to Phandroid will have a good deal on the new phone.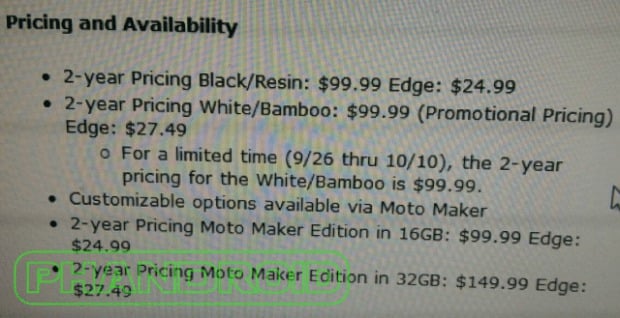 Above is the image mentioned. Claiming that Verizon's Moto X release date is scheduled for September 26th. The phone will retail for $499 off contract, as expected, or be priced at $99 with a new 2-year contract from Verizon. All the MotoMaker.com customization will be included. Those being over 18 different colors, accent colors, custom engravings, four wood back finishes, and new to 2014 is four leather options as well.
Just like last year, the wood and new leather options will be an additional $25 fee, while all other customization options are completely free. However, Verizon will be offering the white Moto X with Bamboo finish for the same $99 on-contract price. Saving potential buyers $25 off.
Read: Moto X in Walnut Wood: Hands-on from 2013
Until today we've only heard rumors of the Verizon release date, but if the image above is accurate those on Verizon Wireless won't have to wait long before they'll be able to order their very own new Moto X smartphone.
From September 26th to October 10th, Verizon will be giving out the Bamboo wood option free, as long as buyers sign a new 2-year contract. This promotional pricing won't last long, and we'll be sure to update once we know more.
It's also worth noting the leak states the 32GB variant will also be available from Verizon for only $49 more, making it $149 with a new 2-year contract, or $27.49 a month with Verizon Edge monthly payments. If this is the actual release date for the new Moto X from Verizon Wireless, expect an official announcement sooner rather than later.

As an Amazon Associate I earn from qualifying purchases.