New Multi-Touch Fujitsu Tablet PCs with Wacom Digitizers!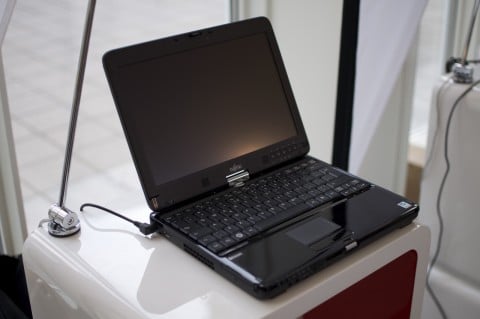 Been almost eight months since Wacom demoed their multi-touch capacitive digitizer on a Tablet PC, and we've without updates since. Now, finally, comes word that not one but two new Tablet PCs are in the works packing Wacom multi-touch goodness.
Straight out of IFA 2009, German site Golem.de shows us two new convertibles from Fujitsu, the T4410 und T4310, both equipped with Wacom's multi-touch technology. Paraphrasing from their report (with help from Google Translate): the 12″ multi-touch screen allows two simultaneous finger touches via capacitive detection with more to be enabled by future software updates. The pen allows 15 levels of pressure sensitivity (no mention if this is a hard limit or if it can be enhanced by software updates; not enough for art but adequate for handwriting). In a brief test, the Wacom digitizer faired better on multi-touch input than the N-Trig Duo-Sense digitizer (no details on what said test entailed).
The units feature other high-end goodies that we've come to expect from Fujitsu, such as a removable optical drive that can be swapped for a second hard drive or battery, Intel Core 2 Duo processor, and a bevy of ports, including USB (3), Firewire 400, HDMI and Expresscard. Wireless options include 802.11n, Bluetooth, and UTMS modem with antenna built into the top of the screen. The demo units had the Microsoft Touch Pack installed, but no word on whether that will be standard. No details on drive capacities (uses 2.5″) or prices.
Also, and this may not be translated correctly, this multi-touch digitizer will also be available as an option on Fujitsu Lifebook T5010. More photos, including close-ups of buttons and ports, at Golem.de.
Update: Video from NewGadgets.de of the multi-touch Fujitsu in action has been posted. Thanks to jkkmobile for the tip.

As an Amazon Associate I earn from qualifying purchases.