New Nexus 4 Commercial Shows Off Google Now's Features
Google's latest ad for the Nexus 4 highlights Google Now, showing users a few things the Google service is capable of.
The ad shows Nexus 4 users across the globe using Google Now to find out information at the same time, across different time zones. The service tells them the weather, helps translate English to French, and helps someone catch a train on time to meet their friends.
The ad shows some of the basic features of Google Now without the users even interacting with their phones. In the ad Google Now simply offers up cards with information the users might want at that time. It shows the service is smart enough to display information the user wants without the user asking for it.
https://youtu.be/SpaLZOjqMew
The only time anyone in the ad actually says anything to Google Now is when a users wants to translate the word "vegetable" from English to French. Other than the only way users interact with their phones is through activating Google Now and maybe swiping away a single card.
Simply by knowing the user's location and the time Google Now can display information such as restaurants to go to for an early dinner and flight information. The ad shows both of those features, though it downplays the latter in favor of a hangout with the user's son in Chicago while he travels to the airport in Tokyo.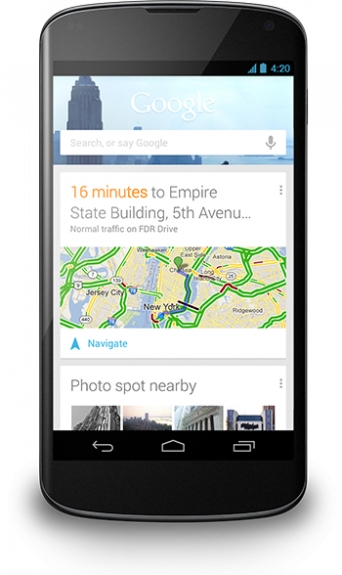 Google Now is also capable of displaying more information, such as sports scores and package tracking information. The service can store a user's preferences and gather information from their Gmail messages, if the user approves it.
Google Now is available on a number of devices running Android 4.1 Jelly bean or above, though it makes sense for Google to advertise the service on its flagship Nexus smartphone instead of any of the other Android smartphones.

This article may contain affiliate links. Click here for more details.