New Nexus Phone Compared to iPhone 5 in New Photos
Belarus site Onliner shares new images online of the leaked LG Nexus 4 next to the iPhone 5 so users can compare the design of the two phones before the new Nexus phone is formally announced.
The new images show the LG Nexus 4 side by side with the new iPhone 5 from the front and the back.
There are no photos of side view of both phones, so it's difficult to compared the thickness. The photos do show how the two phones compare in terms of height, width, screen size and design.
Read: LG Nexus 4 Release Date and Price Predictions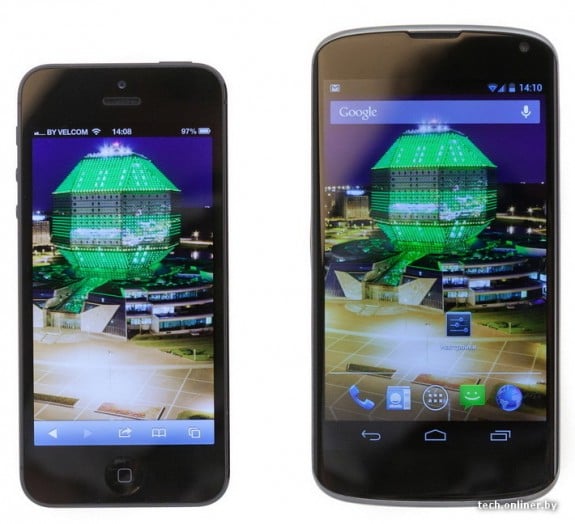 The LG Nexus is a bit taller and wider than the iPhone 5, which is typical for Android phones. Previous leaks say the LG Nexus' 4.7-inch display uses a 1280×768 resolution, which requires a wider screen.
LG's Nexus smartphone looks like its made mostly of plastic like earlier Nexus devices. That might be a problem for LG and Google when the phone competes with the iPhone 5 whose aluminum and glass industrial design was almost universally praised in reviews. The plastic is likely harder to scuff and scratch, however.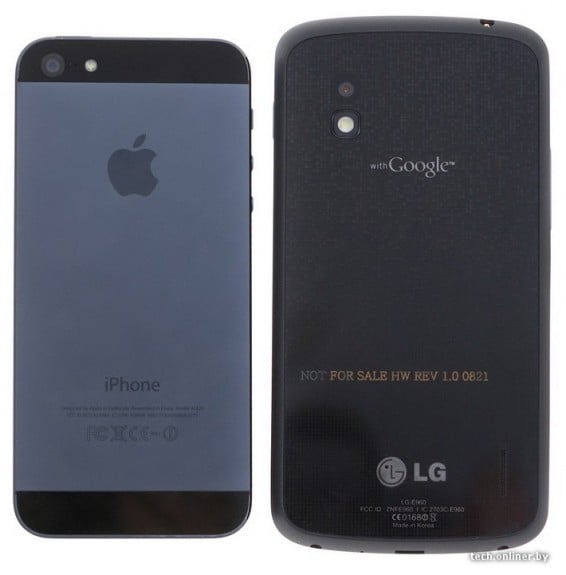 Overall the LG Nexus 4 looks like LG's iteration on Samsung's Galaxy Nexus. The phone features higher specs and will likely ship with a new version of Android, however. Recent rumors say Google and LG will announce the phone on October 29.
Previous rumors said multiple companies were working on multiple Nexus devices. This LG Nexus could just be one of many that we'll see unveiled in the coming weeks. Other rumored manufacturers include Sony, HTC, and Samsung.

As an Amazon Associate I earn from qualifying purchases.