New Nook Tablet Arrives to Take on Kindle Fire HDX
Barnes & Noble, one of the largest seller of physical books on the planet, is teaming up with tablet powerhouse Samsung to launch the Samsung Galaxy Tab 4 Nook, a next-generation Nook tablet.
The two companies announced the new co-branded tablet in a statement earlier today, effectively ending the period in which Barnes & Noble manufactured its own Android-based tablets and sold them directly to consumers to compete with Amazon's Kindle Fire. Name and software aside, the Samsung Galaxy Tab 4 Nook is exactly what users would expect of a device that's meant to compete against the Kindle Fire HDX.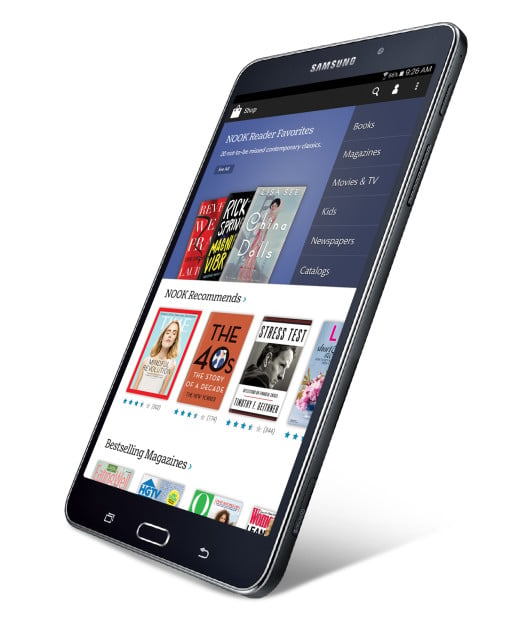 When this Nook tablet launches this August it'll include a 7-inch display, positioning it to perfectly compete against the Kindle Fire HDX. Unfortunately, we don't yet know much more about the hardware of the Samsung Galaxy Tab 4 Nook will have inside of it. If Samsung is just repurposing the Galaxy Tab 4's hardware — and it looks like it definitely is — than users can expect a 1.2GHz quad-core processor, 8GB of on-board storage and the ability to add more storage for videos, music and apps through a microSD card slot.
Users who want just an Android tablet can pick up the regular Samsung Galaxy Tab 4 for $199. That being said, those who did so wouldn't be able to get the most special aspect of the Galaxy Tab 4 Nook: it's customized software. Barnes & Noble says this Nook tablet will have software that's completely "designed for reading, with easy access to Barnes & Noble's expansive digital collection." Today, the number of books and periodicals the company makes available to Nook tablet owners stands at about 3 million.
If the idea of a Nook tablet sounds familiar, it's because Barnes & Noble made its own tablets running Google's Android operating system before. Around a year ago the company announced that it'd stop making Android tablets to focus on its eReaders and digital bookselling business. It then unlocked all previously sold Android tablets so that users could download apps directly from the Google Play Store instead of just its app store.
By partnering with Samsung for new Nook tablets, Barnes & Noble is saving itself from the costs of maintaining a quality tablet ecosystem. Nook tablets were dragging the company's earnings down before they were discontinued. The situation was made worse by Barnes & Noble's corporate makeup; the company doesn't have many businesses to fund a rise in tablets like Amazon.
Interestingly enough, it was previously rumored that Microsoft had plans to work together with Barnes & Noble to build Nook tablets. The Surface tablets all have 10-inch screens that don't make reading all that comfortable, but the rumored Surface mini tablet that Microsoft was expected to debut at an event last month would have been a great device for the two companies to collaborate on. Microsoft actually owns a huge portion of Nook Media, the Barnes & Noble subsidiary that created the Nook tablets.
Read: Microsoft May Buy Barnes & Noble E-Book Business
First-party Nook tablets are gone but Barnes & Noble says it'll continue to sell the Nook GlowLight reader to customers. The Samsung Galaxy Tab 4 Nook will be sold right alongside the Nook GlowLight when it debuts in August in the United States.
All told, the Samsung Galaxy Tab 4 Nook seems to be a good deal for just about everyone involved. Barnes & Noble will be able to compete with Amazon in the eBook space without having to destroy its cash reserves and users get what should be a pretty capable Android tablet to read on and browse the internet.
Samsung is once again adding an additional product to confuse buyers. Still, as long as the reading experience is good and Barnes & Noble keeps innovating on the device's software that shouldn't be much of a problem.

This article may contain affiliate links. Click here for more details.