The OneNote Extensibility & More Blog links to two new powertoys for OneNote that look really attractive.
First up is the Export Outlook Notes to OneNote powertoy that allows you to do just that. I've been waiting for just such a tool as I used to store a lot of info in Outlook Notes in the Days Before OneNote (DBON?). And now I'll be able to port them over easily. You can get the zip file here.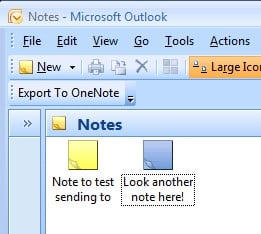 And for those who need to keep up with word counts, there is a OneNote 2007 Word Count powertoy that will allow you to do just that. You can get the zip file here.
Both require the .Net 2.0 Framework to be installed and you can find the installation instructions here.
I haven't given either one a try yet, but plan to do so soon.

As an Amazon Associate I earn from qualifying purchases.