New OneNote Team Member Blog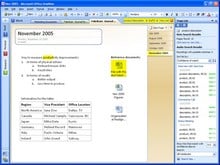 Olya Veselova is a member of the OneNote Team and has started a new blog.
I love her description of what she is going to cover:
I will try to cover various OneNote how-tos, best practices, and troubleshooters that fall under the general category of "not-obvious-how-to-do-and-I-bet-some-people-are-wondering." So apologies in advance for the apparent lack of theme :).
In many ways that sounds very much like how I use OneNote.
Subscribed. You should be to. Check it out here.

As an Amazon Associate I earn from qualifying purchases.